On Sale This Week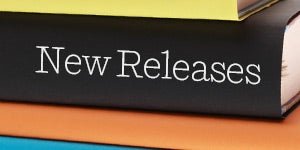 On Sale This Week previews a selection of Penguin Random House fiction, nonfiction, poetry and young readers books being published each week. The choices are a mix of titles by both bestselling and emerging authors. We hope this serves as a useful reference for hot new reads hitting shelves.
FICTION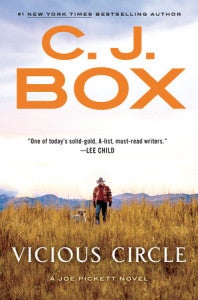 VICIOUS CIRCLE by C.J. Box (Putnam)
The plane circled in the dark. Joe Pickett could just make out down below a figure in the snow and timber, and then three other figures closing in. There was nothing he could do about it. And Joe knew that he might be their next target. The Cates family had always been a bad lot. Game warden Joe Pickett had been able to strike a fierce blow against them when the life of his daughter April had been endangered, but he'd always wondered if there'd be a day of reckoning. He's not wondering any longer. Joe knows they're coming after him and his family now. He has his friend Nate by his side, but will that be enough this time? All he can do is prepare…and wait for them to make the first move.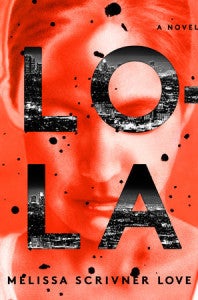 LOLA by Melissa Scrivner Love (Crown)
The Crenshaw Six are a small but up-and-coming gang in South Central LA who have recently been drawn into an escalating war between rival drug cartels. To outsiders, the Crenshaw Six appear to be led by a man named Garcia . . . but what no one has figured out is that the gang's real leader (and secret weapon) is Garcia's girlfriend, a brilliant young woman named Lola. Lola has mastered playing the role of submissive girlfriend, and in the man's world she inhabits she is consistently underestimated. But in truth she is much, much smarter–and in many ways tougher and more ruthless–than any of the men around her, and as the gang is increasingly sucked into a world of high-stakes betrayal and brutal violence, her skills and leadership become their only hope of survival.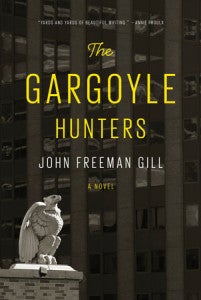 THE GARGOYLE HUNTERS by John Freeman Gill (Knopf)
With both his family and his city fracturing, thirteen-year-old Griffin Watts is recruited into his estranged father's illicit and dangerous architectural salvage business. Small and nimble, Griffin is charged with stealing exuberantly expressive nineteenth-century architectural sculptures—gargoyles—right off the faces of unsung tenements and iconic skyscrapers all over town. As his father explains it, these gargoyles, carved and cast by immigrant artisans during the city's architectural glory days, are an endangered species in this era of sweeping urban renewal. Desperate both to connect with his father and to raise cash to pay the mortgage on the brownstone where he lives with his mother and sister, Griffin is slow to recognize that his father's deepening obsession with preserving the architectural treasures of Beaux Arts New York is also a destructive force, imperiling Griffin's friendships, his relationship with his very first girlfriend, and even his life.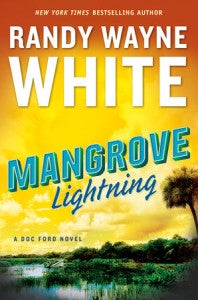 MANGROVE LIGHTNING by Randy Wayne White (Putnam)
Doc Ford has been involved in many strange cases. This may be one of the strangest. A legendary charter captain and guide named Tootsie Barlow has come to him, muttering about a curse. The members of his extended family have suffered a bizarre series of attacks, and Barlow is convinced it has something to do with a multiple murder in 1925, in which his family had a shameful part. Ford doesn't believe in curses, but as he and his friend Tomlinson begin to investigate, following the trail of the attacks from Key Largo to Tallahassee, they, too, suffer a series of near-fatal mishaps. Is it really a curse? Or just a crime spree? The answer lies in solving a near-hundred-year-old murder…and probing the mind of a madman.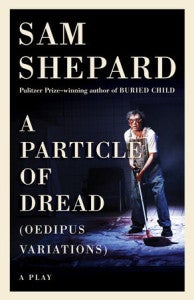 A PARTICLE OF DREAD by Sam Shepard (Vintage)
In A PARTICLE OF DREAD, Sam Shepard takes one of the most famous plays in history—Oedipus Rex—and transforms it into a modern American classic. In this telling, Oedipus, King of Thebes, prophesized to kill his father and marry his mother, alternates between his classical identity and that of contemporary "Otto." His wife (and true mother), Jocasta, is also called Jocelyn, and his antagonist (and true father) is split into three characters, Laius, Larry, and Langos. Two present-day policemen from the Southwest stand in for the Greek chorus as they investigate the murder case. Dazzlingly inventive, ringing with the timelessness of myth, A Particle of Dread is an unforgettable work that grapples with questions of storytelling and destiny—the narratives that we pass down, and how they shape our lives. It is a play that lingers in the mind long after we finish the last scene.
NONFICTION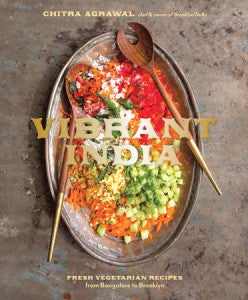 VIBRANT INDIA by Chitra Agrawal (Ten Speed Press)
Lifelong vegetarian and chef Chitra Agrawal takes you on an epicurean journey to her mother's hometown of Bangalore and back to Brooklyn, where she adapts her family's South Indian recipes for home cooks. This particular style of Indian home cooking, often called the "yoga diet," is light and fresh, yet satisfying and rich in bold and complex flavors. Grains, legumes, fresh produce, coconut, and yogurt—along with herbs, citrus, chiles, and spices—form the cornerstone of this delectable cuisine, rooted in vegetarian customs and honed over centuries for optimum taste and nutrition. From the classic savory crepe dosa, filled with lemony turmeric potatoes and cilantro coconut chutney, to new creations like coconut polenta topped with spring vegetables 'upma" and homemade yogurt, the recipes in VIBRANT INDIA are simple to prepare and a true celebration of color and flavor on a plate.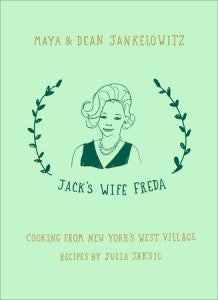 JACK'S WIFE FREDA COOKBOOK by Maya and Dean Jankelowitz (Blue Rider Press)
Jack's Wife Freda, a pair of downtown restaurants whose signs bear the illustrated face of their namesake grandma, have become part of the epicenter of Jewish comfort-food dining in New York's Greenwich Village. With their communal, casual vibe and detailed coziness, the restaurants feel like home, and everyone–from the many local regulars to thousands of tourists just passing through–is greeted like family by owners Maya and Dean Jankelowitz, and their staff. And the food is another reason you never want to leave. Good food enjoyed with friends and family is the foundation of Jack's Wife Freda, and Maya and Dean bring the same vibrant energy and love of great cooking and healthful eating to their first cookbook. Whether you live around the corner and pop in regularly for a favorite meal or look forward to an out-of-town visit, this beautifully illustrated and user-friendly book makes it easy to eat from Jack's Wife Freda all day, every day.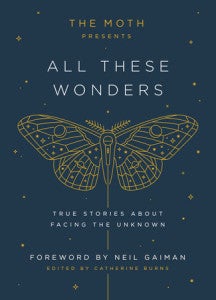 THE MOTH PRESENTS ALL THESE WONDERS by Catherine Burns (Crown Archetype)
Celebrating the 20th anniversary of storytelling phenomenon The Moth, 45 unforgettable true stories about risk, courage, and facing the unknown, drawn from the best ever told on their stages. Carefully selected by the creative minds at The Moth, and adapted to the page to preserve the raw energy of live storytelling, ALL THESE WONDERS features voices both familiar and new. Alongside Louis C.K., Tig Notaro, John Turturro, and Meg Wolitzer, readers will encounter: an astronomer gazing at the surface of Pluto for the first time, an Afghan refugee learning how much her father sacrificed to save their family, a hip-hop star coming to terms with being a "one-hit wonder," a young female spy risking everything as part of Churchill's "secret army" during World War II, and more.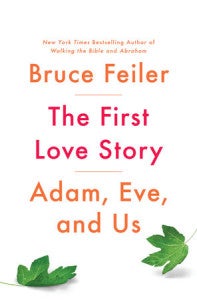 THE FIRST LOVE STORY: Adam, Eve, and Us by Bruce Feiler (Penguin Press)
Since antiquity, one story has stood at the center of every conversation about men and women. One couple has been the battleground for human relationships and sexual identity. That couple is Adam and Eve. Yet instead of celebrating them, history has blamed them for bringing sin, deceit, and death into the world. In this fresh retelling of their story, New York Times columnist and PBS host Bruce Feiler travels from the Garden of Eden in Iraq to the Sistine Chapel in Rome, from John Milton's London to Mae West's Hollywood, discovering how Adam and Eve should be hailed as exemplars of a long-term, healthy, resilient relationship. At a time of discord and fear over the strength of our social fabric, Feiler shows how history's first couple can again be role models for unity, forgiveness, and love.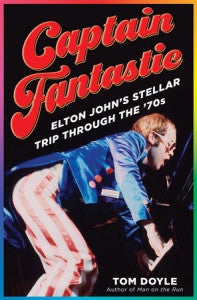 CAPTAIN FANTASTIC by Tom Doyle (Ballantine)
In August 1970, Elton John achieved overnight fame with a rousing performance at the Troubadour in Los Angeles. Over the next five years, the artist formerly known as Reginald Dwight went from unheard of to unstoppable, scoring seven consecutive #1 albums and sixteen Top Ten singles in America. Elton John's live shows became raucous theatrical extravaganzas, attended by all the glitterati of the era. But beneath the spangled bodysuits and oversized eyeglasses, Elton was a desperately shy man, conflicted about his success, his sexuality, and his narcotic indulgences. In 1975, at the height of his fame, he attempted suicide. After coming out as bisexual in a controversial Rolling Stone interview that nearly wrecked his career, and announcing his retirement from live performance in 1977 at the age of thirty, he gradually found his way back to the thing he cared about most: the music. CAPTAIN FANTASTIC gives readers a behind-the-scenes look at the rise, fall, and return to glory of one of the world's most mercurial performers.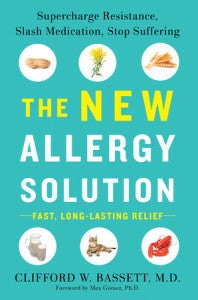 THE NEW ALLERGY SOLUTION: Supercharge Resistance, Slash Medication, Stop Suffering by Clifford Bassett, MD (Avery)
Millions of Americans currently suffer from allergies, and the rate is growing. Climate change, globalization, air pollution, and over-sanitization of the environment in the early years of life are just a few of the causes that, taken together, have introduced new allergens into our environment that are wreaking havoc and causing needless suffering. This "new allergen marketplace" requires a new allergy solution. According to Dr. Clifford W. Bassett, traditional remedies focus on treating symptoms but leave allergy sufferers vulnerable to continued bouts of misery. Dr. Bassett argues that when we consider a person's genetics, environment, and overall health, we can more effectively identify—and take appropriate action to forestall—symptoms before they even begin. For the first time, Dr. Bassett presents the unique, integrative approach he's used in his Manhattan offices for two decades to vanquish allergy symptoms for countless individuals.
YOUNG READERS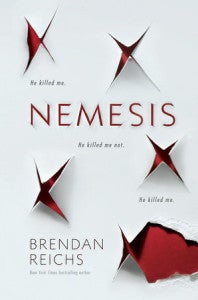 NEMESIS by Brendan Reichs (G.P. Putnam's Sons Books for Young Readers)
It's been happening since Min was eight. Every two years, on her birthday, a strange man finds her and murders her in cold blood. But hours later, she wakes up in a clearing just outside her tiny Idaho hometown—alone, unhurt, and with all evidence of the horrifying crime erased. Across the valley, Noah just wants to be like everyone else. But he's not. Nightmares of murder and death plague him, though he does his best to hide the signs. But when the world around him begins to spiral toward panic and destruction, Noah discovers that people have been lying to him his whole life. Everything changes in an eye blink. For the planet has a bigger problem. The Anvil, an enormous asteroid threatening all life on Earth, leaves little room for two troubled teens.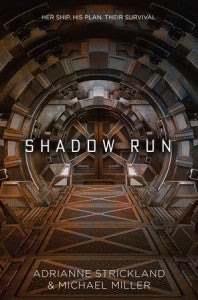 SHADOW RUN by Michael Miller and Adrianne Strickland (Delacorte Press)
Nev has just joined the crew of the starship Kaitan Heritage as the cargo loader. His captain, Qole, is the youngest-ever person to command her own ship, but she brooks no argument from her crew of orphans, fugitives, and con men. Nev can't resist her, even if her ship is an antique. As for Nev, he's a prince, in hiding on the ship. He believes Qole holds the key to changing galactic civilization, and when her cooperation proves difficult to obtain, Nev resolves to get her to his home planet by any means necessary. But before they know it, a rival royal family is after Qole too, and they're more interested in stealing her abilities than in keeping her alive. Nev's mission to manipulate Qole becomes one to save her, and to survive, she'll have to trust her would-be kidnapper.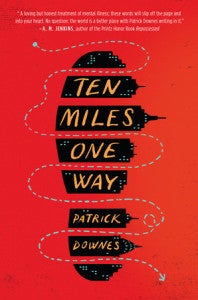 TEN MILES ONE WAY by Patrick Downes (Philomel Books)
The powerful story of a mind at the edge of unraveling, held together by love and acceptance. Nest and Q walk through the city. Nest speaks and Q listens. Mile by mile, Nest tells Q about her life, her family, her past . . . and her Chimaera, the beast that preys on her mind and causes her to lose herself. Q knows only that his love for Nest runs deeper than the demon that plagues her thoughts, that he loves her in spite of—or perhaps because of—the personal battle she fights every day. A beautifully-written, haunting story.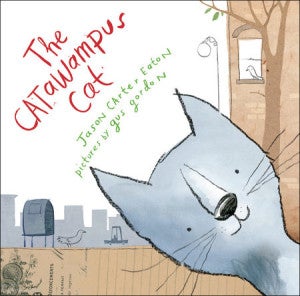 THE CATAWAMPUS CAT by Jason Carter Eaton, Illustrated by Gus Gordon (Crown Books for Young Readers)
Catawampus (cat-a-wam-pus) n. 1. Diagonal or at an angle. 2. Askew, awry. The catawampus cat walks with a slant. And his skewed point of view has everyone in town looking at everything with fresh eyes. Even Bushy Brows Billiam who never notices anything, including what time class is over, spots the catawampus cat, and now he's a star student! And when the town librarian sees the catawampus cat, she pulls the "wrong" book from the shelf, sending her into a life of adventure. The catawampus cat is in town and everything is about to change.
Posted: March 17, 2017