"One World Ideas x Action: Art as Resistance" with Riva Lehrer, Molly Crabapple and Chris Jackson via Zoom (10/15)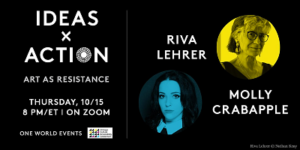 Join Riva Lehrer (GOLEM GIRL) and Molly Crabapple (BROTHERS OF THE GUN: A Memoir of the Syrian War), in conversation with One World Publisher & Editor-in-Chief Chris Jackson, as they discuss art as resistance, art as a source of profound power, and art as a path to self-transformation via Zoom on Thursday, October 15 at 8:00 pm (ET).
Both artists are also exceptional writers who have used visual and literary art as a way to see the world around them, to honor lives and bodies that are often hidden away or consigned to the margins, to reexamine ideas of power and beauty, and to narrate their own fascinating journeys.
One World is partnering with Chicago Cultural Accessibility Consortium (CCAC), a volunteer-run nonprofit, for this event. CCAC believes that everyone deserves access to Chicago's rich arts and culture. Their mission is to empower Chicago's cultural spaces to become more accessible to visitors with disabilities.
Riva Lehrer is an artist, writer, and curator whose work focuses on issues of physical identity and the socially challenged body. She is best known for representations of people with impairments, and those whose sexuality or gender identity have long been stigmatized. A longtime faculty member of the School of the Art Institute of Chicago, Riva Lehrer is currently an instructor in medical humanities at Northwestern University.
Molly Crabapple, an artist and writer in New York, has drawn in Guantanamo Bay, in Abu Dhabi's migrant labor camps, and with rebels in Syria, and received widespread praise for her illustrated memoir Drawing Blood. Crabapple is a contributing editor for Vice and has written for The New York Times, The Paris Review, and Vanity Fair. Her work is in the permanent collection of the Museum of Modern Art.
One World's mission has always been to find books for readers who want to rethink the past, understand the present, and imagine new futures. Ideas x Action is the imprint's virtual conversation series, taking One World's mission into a new digital space.
!! As a reminder, if you are posting to a personal or other non-PRH account you must include the hashtag #TeamPRH !!
Posted: October 13, 2020