One World Ideas x Action Book Club Features a Discussion of BLACK FUTURES via Zoom (1/14)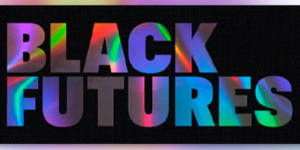 The One World Ideas x Action Book Club will be hosting a virtual discussion of Kimberly Drew and Jenna Wortham's BLACK FUTURES (One World), led by One World editor-in-chief Chris Jackson and featuring designer Jon Key of Morcos Key, who helped devise and art direct the book, via Zoom on Thursday, January 14 at 8:00 pm (ET).
A "vivid, juicy, thick" (Kirkus Reviews) collection of images, photos, essays, memes, dialogues, recipes, tweets, poetry, and more, BLACK FUTURES showcases the radical, imaginative, provocative, and gorgeous world that Black creators are bringing forth—and how these creators seek to answer the question "What does it mean to be Black and alive today?"
This is an opportunity for readers to come together and discuss Jenna and Kimberly's book and their thoughts on how we can find innovative ways to define ourselves for ourselves, without fear of erasure or the deterioration of the Internet. Please note the authors will not be present: This book club is a forum for discussion among readers. If you haven't yet had time to read BLACK FUTURES, check out here for a preview before the discussion.
The One World Ideas x Action Book Club asks readers to reflect on how we can transform the spirit and ideals of these texts into actionable change in the real world.
!! As a reminder, if you are posting to a personal or other non-PRH account you must include the hashtag #TeamPRH !!
Posted: January 12, 2021