One World Ideas x Action Presents #BlackLivesMatter's Alicia Garza and One World's Chris Jackson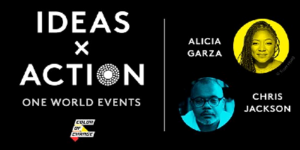 Join One World editor-in-chief Chris Jackson and #BlackLivesMatter co-creator Alicia Garza for a Random House virtual event on Zoom on Thursday, June 4 at 8:00pm (ET) as they discuss the importance of resistance and resilience, and why they ground their work in a vision of collective humanity.
In 2014, Garza wrote a Facebook post that helped create a movement: "Black people. I love you. I love us. Our lives matter. Black lives matter." An innovator, strategist, organizer, and cheeseburger enthusiast, Garza is the Principal at the Black Futures Lab as well as the co-creator of #BlackLivesMatter and the Black Lives Matter Global Network, Strategy & Partnerships Director at the National Domestic Works Association, co-founder at Supermajority, host of the Lady Don't Take No podcast, and author of the forthcoming book THE PURPOSE OF POWER: How to Build Movements for the 21st Century (out in October 2020).
One World is partnering with Color of Change for this event. Color Of Change is the nation's largest online racial justice organization. It helps people respond effectively to injustice in the world around us. As a national online force driven by 1.7 million members, it moves decision-makers in corporations and government to create a more human and less hostile world for Black people in America.
One World's mission has always been to find books for readers who want to rethink the past, understand the present, and imagine new futures. Ideas x Action is its virtual conversation series, taking One World's mission into a new space at this crucial moment.
Posted: June 2, 2020