One World Ideas x Action Presents Wes Moore and One World's Chris Jackson via Zoom (6/11)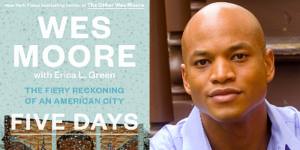 One World Ideas x Action presents Wes Moore, author of the upcoming book, FIVE DAYS: The Fiery Reckoning of an American City (One World), in conversation with One World editor-in-chief Chris Jackson at a Random House virtual event via Zoom on Thursday, June 11 at 8:00pm (ET).
Moore and Jackson will talk about the pain of cataclysm, its potential to highlight the connections between us, and the lessons that Baltimore holds for the rest of our nation.
FIVE DAYS is a kaleidoscopic account of five days in the life of a city on the edge, told through eight characters on the front lines of the uprising that overtook Baltimore and riveted the world in the wake of the killing of Freddie Gray in April 2015.
Moore is a Rhodes Scholar, bestselling author, decorated combat veteran, former White House fellow, and CEO of Robin Hood, one of the largest anti-poverty nonprofits in the nation.
For this event, One World is partnering with Robin Hood, an organization devoted to supporting food, housing, education, legal services, workforce development, and more to New Yorkers living in poverty across all five boroughs.
One World's mission has always been to find books for readers who want to rethink the past, understand the present, and imagine new futures. Ideas x Action is our virtual conversation series, taking One World's mission into a new space at this crucial moment.
!! As a reminder, if you are a PRH employee posting to a personal or other non-PRH account, you must include the hashtag #TeamPRH !! 
Posted: June 10, 2020