One World Ideas x Action with Valarie Kaur and One World's Chris Jackson (6/18)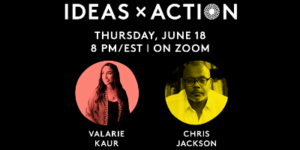 Join Valarie Kaur, civil rights lawyer, award-winning filmmaker, author, innovator, and founder of The Revolutionary Love Project, will be in conversation with One World editor-in-chief Chris Jackson, at a One World Ideas x Action Random House virtual event via Zoom on Thursday, June 18, at 8:00pm (ET). They will explore what it takes to reimagine—and then build—a more just and loving world, and how reimagining institutions and systems in a time of social upheaval can help us orient to this historical moment. Valarie will also read from her book, SEE NO STRANGER: A Memoir and Manifest of Revolutionary Love, and readers can ask questions during the live Q&A.
In SEE NO STRANGER, Ms. Kaur writes, "Anytime we worry we are dreaming too big, we remind each other that every unjust social institution in history seemed permanent until it was imagined otherwise."
One World's mission has always been to find books for readers who want to rethink the past, understand the present, and imagine new futures. Ideas x Action is our virtual conversation series, taking One World's mission into a new space at this crucial moment.
!! As a reminder, if you are a PRH employee posting to a personal or other non-PRH account, you must include the hashtag #TeamPRH !! 
Posted: June 16, 2020