One World Premieres "Ideas & Action" Podcast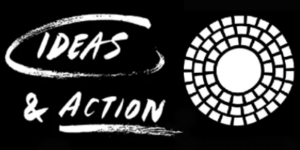 Starting today, February 18, One World presents a new Ideas & Action podcast that explores different challenges and opportunities facing our society, sharing perspectives and advice from their authors to understand how we've gotten to where we are, and how we can envision and build a better future together. Season 1 will be comprised of six weekly episodes, each 30 minutes long, plus short story mini-episodes.
You'll hear from leading thinkers and activists, including Ibram X. Kendi, Bryan Stevenson, Karla Cornejo Villavicencio, Ta-Nehisi Coates, Alicia Garza, Heather McGhee, Nate Marshall, and more—on how they're working to create a more humane, less hostile world for us all, with the hope these will help spark your own ideas and actions, too.
One World Editor-in-Chief Chris Jackson and One World Senior Editor Nicole Counts, along with the rest of the One World team, have pulled together something truly spectacular — another way to bridge the gap not only between a publishing imprint and its readers, but between people who simply love books, who hold tight to the promise of what this country could be, and who seek the insights of artists, thinkers, and innovators who live that promise through their work.
"Our goal with this podcast," says Ms. Counts, "as with all things OW, is to create intentional community between readers and authors and empower our authors to share lessons, dreams, stories, and ideas that might inspire and activate the listener/reader into imaginative thinking of what our world can be. The Ideas & Action podcast—using interviews, interstitial commentary, and bonus story episodes—showcases the breadth of our authors, as well as their storytelling techniques, and how their work, in conversation with each other's, can help us build a more liberated, invigorating, meaningful life, individually and collectively."
The genesis for the podcast comes from One World's popular virtual event series, Ideas x Action, in which the imprint's award-winning, movement-building authors go in depth with the One World team about the big ideas from their work and how they connect to the world right now.
The first season will include clips from past Ideas x Action events with Wes Moore (Five Days) and Alicia Garza (The Purpose of Power), as well as shorter, 10-minute mini-episodes, featuring authors like Kali Fajardo-Anstine (Sabrina & Corina), Fatimah Asghar (If They Come For Us), and Nate Marshall (Finna) reading from their work.
To subscribe, rate, and review Ideas & Action, visit Apple, Spotify or wherever you get your podcasts.
The podcast was created in partnership with Stephanie Bowen, Author Development, with technical support from Pat Stango, Creative Media.
Posted: February 18, 2021