One World Presents #Read&Vote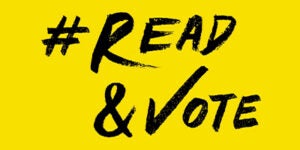 One World is proud to be a home for authors, journalists, and activists who give us new language to understand our past, present, and future. With much at stake in the upcoming election cycle, voters can better understand issues of the day by reading stories about our collective past. To that end, One World is proud to present #Read&Vote, an initiative which offers a curated list of books that examine the health of our society and key ballot issues from some of today's leading thinkers, like Ibram X. Kendi, Ta-Nehisi Coates, Nikole Hannah-Jones, Heather McGhee, Karla Cornejo Villavicencio, and others. 
As a part of #Read&Vote, authors have been sharing messages for readers as they prepare to head to the polls: Quiara Alegría Hudes, author of My Broken Language, recounted her experiences being witness to her mom organizing with her fellow Latina community members: "As a Puerto Rican, she had the right to vote, but many of her community members were not documented and were fighting and struggling every day to attain that right." 
Thomas Fisher, author of The Emergency, discussed his 20 years of experience as an ER physician, and how segregation has directly led to a lack of resources and care for his Black patients on the South Side of Chicago. "It's important now that we vote so that we have policies that reflect our shared humanity," Fisher said. 
Bryan Stevenson, the author of Just Mercy, says, "We will not end mass incarceration in America. We will not eliminate cruel punishment, unjust convictions, unfair sentences, racial disparities in our system if we do not vote; voting is essential in a democracy, it's how we change things . . . We need justice and justice requires that we vote."  
Additionally, as part of One World's ongoing Ideas & Action event series, former U.S. Attorney General and author of OUR UNFINISHED MARCH, Eric Holder, was in conversation with Sherrilyn Ifill, President and Director-Counsel Emeritus of the NAACP Legal Defense Fund on July 14. Mr. Holder and Ms. Ifill spoke about how we can reverse the ongoing efforts in states across the country to suppress voters and work to become a true democracy where every voice is heard and every vote is counted. If you missed that event, you can watch the recording of the conversation here.  
From now until the midterms in November, you can follow One World on Instagram, Twitter, or subscribe to the One World newsletter for more exclusive videos and content from our authors speaking on voting rights and other critical issues. As we head into another crucial election cycle, we hope you'll join us to Read & Vote.  
Posted: August 17, 2022