One World's Chris Jackson Awarded Medal for Editorial Excellence by the Center for Fiction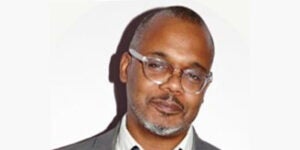 Last Thursday, December 3, PRH's Chris Jackson, Publisher and Editor-in-Chief of One World, was honored by the Center for Fiction at their annual awards benefit. Chris received the prestigious Medal for Editorial Excellence, presented by bestselling One World author Ta-Nehisi Coates.  
As the leader of One World, Chris is a singular champion of emerging storytellers and diverse voices who inspire readers and enhance our culture. He is the editor or publisher of award-winning and bestselling authors, including Coates, Victor LaValle, Mat Johnson, Karla Cornejo Villavicencio, Bryan Stevenson, Trevor Noah, Nikole Hannah-Jones, Ibram X. Kendi, Valarie Kaur, and Eddie Huang, Jordy Rosenberg, Kali Fajardo-Astine, Maurice Carlos Ruffin, K-Ming Chang, and Nate Marshall.
The Center for Fiction Medal for Editorial Excellence honors the work of an editor, publisher, or agent who has discovered, nurtured and championed writers of fiction in the United States, acknowledging the critical role played by agents, editors, and publishers in the literary world. PRH is a longtime partner of the CFF, the only nonprofit literary organization in the U.S. solely dedicated to celebrating fiction.
"Two elements are key to Chris' editorial approach: a cold reality about the standard that's being set, but beyond that, a deep belief in the person setting out to try to achieve that standard … Had I had another editor [for Between the World and Me], they likely would have taken the first draft, cleaned it up a little bit and published it. He's constantly pushing his writers to 'do the thing,'" said Ta-Nehisi Coates during his opening remarks.
"I'm accepting this award on behalf of the writers I've had the privilege of working with over my career, who've written some of the most important books of the last several years. I love them all and have learned so much from them about how to find meaning and justice and clarity in the chaos of this life," said Chris. "I've learned from their readers too, that the things that have taught me and moved me and seen me can teach and move and see millions of others …The publishing industry that serves us all, that helps us better imagine ourselves into each other's lives, better see and understand each other, and create a better world is ours to make."
Chris' remarks can be viewed here, and you can watch the entire ceremony here. Please join us in congratulating him for this immense and well-deserved honor.
Posted: December 7, 2020