Our 2 PEN Center USA Awards Winners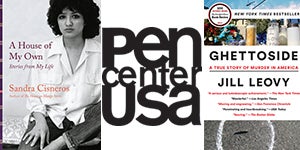 The winners of this year's PEN Center USA Awards, which recognize the best writing in the western U.S., have been announced and include two of our authors and their books:
Sandra Cisneros for A HOUSE OF MY OWN (Knopf) in the Creative Nonfiction category.
Jill Leovy for GHETTOSIDE (Spiegel & Grau) in the Research Nonfiction category.
Congratulations to our authors and their publishers.
View the complete list of PEN Center USA Literary Awards winners here.
The winning writers in each category receive $1,000 and will be honored September 28 at the Literary Awards Festival in Beverly Hills, California.
Posted: August 26, 2016