Our 2017 800-CEO-READ Business Book Awards Longlisters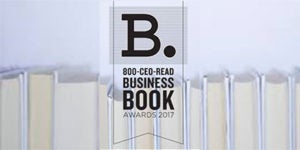 The longlist for the 11th annual 800-CEO-READ Business Book Awards includes 14 books published by Penguin Random House imprints and one Penguin Random House Publisher Services client title.  800-CEO-READ General Manager Sally Haldorson commented, "This year's longlist strikes me as particularly eclectic, and as a result, tremendously exciting. Every business reader whose curiosity and love of learning drives them to seek new approaches, to strive for better, to push a little further in their own lives and their own companies will find a book here well-suited to their needs."  
Here are our longlisted titles in the following categories:
Management & Workplace Culture
OWN IT: The Power of Women at Work by Sallie Krawcheck (Crown Business)
THE STARTUP WAY: How Modern Companies Use Entrepreneurial Management to Transform Culture and Drive Long-Term Growth by Eric Ries (Currency)
Marketing & Sales
HIT MAKERS: The Science of Popularity in an Age of Distraction by Derek Thompson (Penguin Press)
THE LOST ART OF CLOSING: Winning the Ten Commitments That Drive Sales by Anthony Iannarino, (Portfolio)
PERENNIAL SELLER: The Art of Making and Marketing Work that Lasts by Ryan Holiday (Portfolio)
THE TRANSFORMATIONAL CONSUMER: Fuel a Lifelong Love Affair with Your Customers by Helping Them Get Healthier, Wealthier, and Wiser by Tara-Nicholle Nelson (Berrett-Koehler, a PRHPS client publisher)
Innovation & Creativity
HACKING GROWTH: How Today's Fastest-Growing Companies Drive Breakout Success by Sean Ellis & Morgan Brown (Crown Business)
HUNCH: Turn Your Everyday Insights Into The Next Big Thing by Bernadette Jiwa (Portfolio)
Personal Development & Human Behavior
BRAVING THE WILDERNESS: The Quest for True Belonging and the Courage to Stand Aloneby Brené Brown (Random House)
INSIGHT: Why We're Not as Self-Aware as We Think, and How Seeing Ourselves Clearly Helps Us Succeed at Work and in Life by Tasha Eurich (Crown Business)
Current News & Public Affairs
THE CEO PAY MACHINE: How it Trashes America and How to Stop it by Steven Clifford (Blue Rider Press)
WORLD WITHOUT MIND: The Existential Threat of Big Tech by Franklin Foer (Penguin Press)
Narrative & Biography
THE CUBS WAY: The Zen of Building the Best Team in Baseball and Breaking the Curse by Tom Verducci, (Crown Archetype)
Big Ideas & New Perspectives
THE POWER OF ONLYNESS: Make Your Wild Ideas Mighty Enough to Dent the World by Nilofer Merchant (Viking)
SCALE: The Universal Laws of Growth, Innovation, Sustainability, and the Pace of Life in Organisms, Cities, Economies, and Companies by Geoffrey West (Penguin Press)
View the complete 2017 800-CEO-READ Business Book Awards Longlist here.
The winners in each of eight categories will be announced on December 5.  From among those category winners, the 800-CEO-READ Business Books of the Year will be picked and announced at an event on January 18 in New York City. That night the organization will also celebrate the fourth annual Jack Covert Award for Contribution to the Business Book Industry.
800-CEO-READ identifies current trends in business literature, and also handles bulk book sales.
Posted: November 9, 2017