Our 25 PEN Literary Awards Longlisters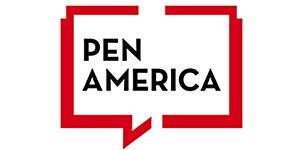 PEN America has announced the longlists for its 2017 Literary Awards in the categories of debut fiction, nonfiction, essay, diversity, science, sports writing, biography, translation and poetry in translation. The 25 longlisted titles published by Penguin Random House imprints are presented below:
PEN/Robert W. Bingham Prize for Debut Fiction
THE MOTHERS by Brit Bennett (Riverhead Books)
WHEN WATCHED by Leopoldine Core (Penguin Books)
HOMEGOING by Yaa Gyasi  (Alfred A Knopf)
WRECK AND ORDER by Hannah Tennant-Moore (Hogarth/Crown Publishing Group)
PEN/John Kenneth Galbraith Award for Nonfiction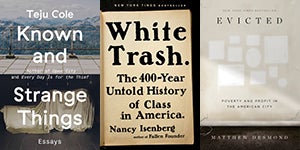 EVICTED: Poverty and Profit in the American City by Matthew Desmond (Crown)
WHITE TRASH: The 400-Year Untold History of Class in America by Nancy Isenberg (Viking)
STRANGERS DROWNING: Impossible Idealism, Drastic Choices, and the Urge to Help
by Larissa MacFarquhar (Penguin Press)
CHILDREN OF PARADISE: The Struggle for the Soul of Iran by Laura Secor (Riverhead Books)
BAD NEWS: Last Journalists in a Dictatorship by Anjan Sundaram (Doubleday)
PEN/Diamonstein-Spielvogel Award for the Art of the Essay
KNOWN AND STRANGE THINGS by Teju Cole (Random House)
AGAINST EVERYTHING by Mark Greif (Pantheon Books)
PEN Open Book Award
CHRONICLE OF A LAST SUMMER: A Novel of Egypt by Yasmine El Rashidi (Tim Duggan Books/Crown Publishing Group)
BEHOLD THE DREAMERS by Imbolo Mbue (Random House)
WHAT IS NOT YOURS IS NOT YOURS by Helen Oyeyemi (Riverhead Books)
PEN/E.O. Wilson Literary Science Writing Award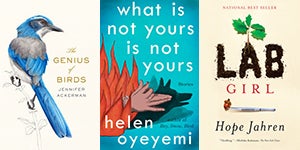 THE GENIUS OF BIRDS by Jennifer Ackerman (Penguin Press)
PATIENT H.M.: A Story of Memory, Madness, and Family Secrets by Luke Dittrich (Random House)
ENGINEERING EDEN: The True Story of a Violent Death, a Trial, and the Fight Over Controlling Nature
by Jordan Fisher Smith (Crown)
HOW TO MAKE A SPACESHIP: A Band of Renegades, an Epic Race, and the Birth of a Private Spaceflight
by Julian Guthrie (Penguin Press)
LAB GIRL by Hope Jahren (Alfred A Knopf)
THE GLASS UNIVERSE by Dava Sobel (Viking)
PEN/ESPN Award for Literary Sports Writing
BOYS AMONG MEN: How the Prep-to-Pro Generation Redefined the NBA and Sparked a Basketball Revolution by Jonathan Abrams (Crown Archetype)
INDENTURED: The Inside Story of the Rebellion Against the NCAA by Joe Nocer and  Ben Strauss (Portfolio)
PEN/Jacqueline Bograd Weld Award for Biography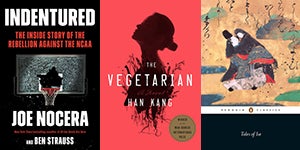 CHARLOTTE BRONTE: A Fiery Heart by Claire Harman (Alfred A. Knopf)
PEN Translation Prize
THE VEGETARIAN by Han Kang; translated from the Korean by Deborah Smith (Hogarth/Crown Publishing Group)
PEN Award for Poetry in Translation
TALES OF ISE translated from Japanese by Peter MacMillan (Penguin Classics)
Warm congratulations to all of our PEN longlisted authors, their editors and publishers.
To view the complete 2017 PEN Literary Awards longlists click here.
Finalists for the 2017 PEN awards will be announced on January 18. The winners will be revealed on February 22, except those for the awards for debut fiction and essay as well as those for the PEN/Jean Stein Book Award and the PEN/Nabokov Award, which will be named live at the 2016 PEN Literary Awards Ceremony on March 27 at The New School's Auditorium in NYC.
Posted: December 9, 2016