Our 4 Finalists for 2022 ALA Carnegie Medals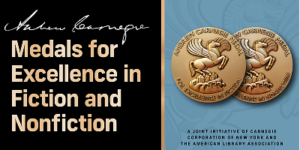 This week, the American Library Association announced the six books shortlisted for the tenth annual Andrew Carnegie Medals for Excellence in Fiction and Nonfiction, including four books published by Penguin Random House imprints. These prestigious medals are bestowed to the titles judged to be the previous year's best U.S.-published adult fiction and nonfiction. The winners will be announced online at the ALA RUSA (Reference and User Services Association) Book and Media Awards (BMAs) virtual event on Sunday, January 23, 2022, during the ALA's LibLearnX conference. Each will receive $5,000.
Our Finalists
Fiction
MATRIX by Lauren Groff (Riverhead)
Nonfiction
FOUR HUNDRED SOULS: A Community History of African America, 1619–2019 by Ibram X. Kendi and Keisha N. Blain (One World)
A LITTLE DEVIL IN AMERICA: Notes in Praise of Black Performance by Hanif Abdurraqib (Random House)
SEEK YOU: A Journey Through American Loneliness by Kristen Radtke (Pantheon)
To view all of the finalists for the 2022 Carnegie Medals , click here.
Posted: November 12, 2021