---
Our 4 Finalists for B&N's 2018 Discover Great New Writers Awards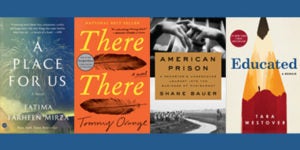 Four of the six finalists for Barnes & Noble's 2018 Discover Great New Writers Awards are published by Penguin Random House imprints. The finalists share a cash prize totaling $105,000. The winners, who will each receive $30,000, will be announced on Wednesday, March 6, at an awards ceremony in New York City.
Our finalists:
Fiction
A PLACE FOR US by Fatima Farheen Mirza (SJP for Hogarth)
THERE THERE by Tommy Orange (Knopf)
Nonfiction
AMERICAN PRISON: A Reporter's Undercover Journey Into the Business of Punishment by Shane Bauer (Penguin Press)
EDUCATED by Tara Westover (Random House)
Warm congratulations to our authors, their editors and publishers.
To view the complete list of 2018 Discover Great New Writers Awards finalists, click here.
The Discover Great New Writers program has previously honored a number of other bestselling Penguin Random House authors, including Matthew Desmond, Gillian Flynn, Elizabeth Gilbert, Khaled Hosseini, Zadie Smith, Cheryl Strayed, and Colson Whitehead
Posted: February 1, 2019