Our 4 Longlisters for the '21 Brooklyn Public Library Literary Prize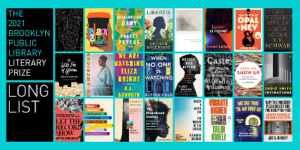 The Brooklyn Public Library, in collaboration with the Brooklyn Eagles, has announced this year's Brooklyn Public Library Literary Prize longlist, which includes titles published by Penguin Random House imprints and a Penguin Random House Publisher Services client publisher. This annual award is selected by BPL librarians and library staff, to recognize "writing that captures the spirit of Brooklyn, one of the most socially and culturally diverse communities in the country."
Our longlisters:
Nonfiction
UNDER A WHITE SKY: The Nature of the Future by Elizabeth Kolbert (Crown)
CASTE: The Origins of Our Discontents by Isabel Wilkerson (Random House)
PEDRO'S THEORY: Reimagining the Promised Land by Marcos Gonsalez (Melville House, a PRHPS client publisher)
Fiction & Poetry
DETRANSITION, BABY by Torrey Peters (One World)
To view the complete Brooklyn Public Library Literary Prize longlist, click here.
The 2021 the BPL Literary Prize shortlist will be announced in the early Fall. The 2021 BPL Literary Prize winners will accept their awards and a $5,000 prize during November's Brooklyn Classic, the signature fundraising event of the Brooklyn Eagles – a vibrant group of young and engaged Brooklyn Public Library supporters who work to engage new patrons, promote the library as a cultural center, and build a vibrant community around the resources the library offers.
Posted: September 7, 2021