Presenting Our 41 NYTBR "Notable Books of 2021"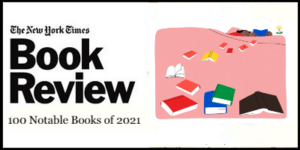 Presentations of the year's "best books" are well underway, and the New York Times Book Review's annual list is among the most anticipated and scrutinized.
For their" 100 Notable Books of 2021″ the NYTBR editors have selected 22 Fiction and Poetry and 19 Nonfiction and Memoir titles published by Penguin Random House imprints, 41 in all.
The complete list is link here, online at the TBR site, and available in the December 5 print edition.
Congratulations to our honored authors and their proud publishers:
Fiction/Poetry
Nonfiction/Memoir
Posted: November 22, 2021