Our 5 Finalists for 2019 Children's and Teen Choice Book Awards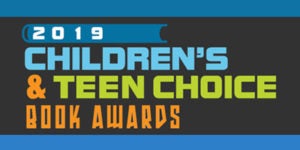 The Children's Book Council and Every Child a Reader have announced the finalists for the 12th annual Children's and Teen Choice Book Awards, the only national book awards voted on entirely by children and teens. Five of the nominated titles are published by Penguin Random House imprints or Penguin Random House Publisher Services clients. The three categories of children's finalists were chosen in pre-voting by kids in different regions of the U.S., with supervision by the International Literacy Association. The finalists in the teen category were nominated by young readers at TeenReads.com.
Our Finalists:
Kindergarten to Second Grade
THERE'S A DRAGON IN YOUR BOOK by Tom Fletcher, illustrated by Greg Abbott (Random House Children's Books)
JULIAN IS A MERMAID by Jessica Love (Candlewick, a PRHPS client)
Third to Fourth Grade
BACK TO THE FUTURE by Robert Zemeckis and Bob Gale, illustrated by Kim Smith (Quirk Books, a PRHPS client)
Fifth to Sixth Grade
FAKERS: An Insider's Guide to Cons, Hoaxes, and Scams by H.P. Wood, illustrated by David Clark (Charlesbridge, a PRHPS client)
Teen Choice
WILDCARD by Marie Lu (Putnam Books for Young Readers)
To view the complete list of finalists, click here.
Young readers nationwide will have the opportunity to vote online for the finalists beginning on March 1 and ending on June 2 at BookCon in New York City. The online "voting booth" features jacket art and book descriptions. Teachers, librarians, and booksellers can also gather group or classroom votes to enter online. In addition, the voting site will feature paper ballots and visual materials to help promote the finalists.
The winning authors and illustrators will be announced this summer.
Posted: February 26, 2019