Our 5 NYTBR "10 Best of 2019"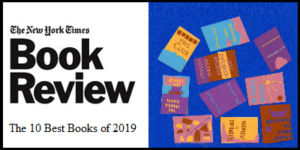 The New York Times Book Review has just announced its "10 Best Books of 2019":
Five of them are by our authors.
The complete list is published online, and will appear in the publication's print edition next month.
Congratulations to our authors and to their Knopf Doubleday and PRH Audio publishing teams.
Fiction:
DISAPPEARING EARTH by Julia Phillips (Knopf hardcover and e-book; RH Audio; forthcoming Vintage pb)
"In the first chapter of this assured debut novel, two young girls vanish, sending shock waves through a town perched on the edge of the remote, brooding Kamchatka Peninsula. What follows is a novel of overlapping short stories about the various women who have been affected by their disappearance. Each richly textured tale pushes the narrative forward another month and exposes the ways in which the women of Kamchatka have been shattered — personally, culturally and emotionally — by the crime."
EXHALATION by Ted Chiang (Knopf hardcover and e-book, RH Audio)
"Many of the nine deeply beautiful stories in this collection explore the material consequences of time travel. Reading them feels like sitting at dinner with a friend who explains scientific theory to you without an ounce of condescension. Each thoughtful, elegantly crafted story poses a philosophical question; Chiang curates all nine into a conversation that comes full circle, after having traversed remarkable terrain. "
LOST CHILDREN ARCHIVE by Valeria Luiselli (Knopf hardcover and e-book; RH Audio; forthcoming Vintage pb)
"The Mexican author's third novel — her first to be written in English — unfolds against a backdrop of crisis: of children crossing borders, facing death, being detained, being deported unaccompanied by their guardians. The novel centers on a couple and their two children (all unnamed), who are taking a road trip from New York City to the Mexican border; the couple's marriage is on the brink of collapse as they pursue independent ethnographic research projects and the woman tries to help a Mexican immigrant find her daughters, who've gone missing in their attempt to cross the border behind her."
NIGHT BOAT TO TANGIER by Kevin Barry (Doubleday, RH Audio)
"A desolate ferry terminal on the Spanish coast isn't a place where you'd expect to encounter sharp-edged lyricism or rueful philosophy, but thanks to the two Irish gangster antiheroes of Barry's novel, there's plenty of both on display, along with scabrously amusing tale-telling and much summoning of painful memories. Their lives have become so intertwined that the young woman whose arrival they await can qualify as family for either man. Will she show? How much do they care? Their banter is a shield against the dark, a witty new take on "Waiting for Godot.""
Nonfiction:
SAY NOTHING by Patrick Raddon Keefe (Doubleday, RH Audio)
"Masked intruders dragged Jean McConville, a 38-year-old widow and mother of 10, from her Belfast home in 1972. In this meticulously reported book — as finely paced as a novel — Keefe uses McConville's murder as a prism to tell the history of the Troubles in Northern Ireland. Interviewing people on both sides of the conflict, he transforms the tragic damage and waste of the era into a searing, utterly gripping saga."
Posted: November 22, 2019