Our 9 Finalists for LA Times Book Prizes, Silko to Receive Kirsch Award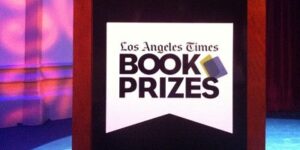 The Los Angeles Times announced the finalists and honorees for its 41st annual Book Prizes. Nine Penguin Random House authors are among the finalists. Penguin novelist and poet Leslie Marmon Silko will receive the 2020 Robert Kirsch Award for lifetime achievement, which recognizes a writer whose work focuses on the American West.
Silko's books, including Laguna, Ceremony, Storyteller, and Almanac of the Dead, are heavily influenced by her mixed heritage of Laguna Pueblo, Mexican and Anglo-American. She writes about the alienation of Native Americans and the importance of Native traditions to help cope with modern-day reservation life.
Our Finalists:
Fiction
THE DEATH OF VIVEK OJI by Akwaeke Emezi (Riverhead)
THE OFFICE OF HISTORICAL CORRECTIONS: A Novella and Stories by Danielle Evans (Riverhead)
Biography
RED COMET: The Short Life and Blazing Art of Sylvia Plath by Heather Clark (Knopf)
Current Interest
A KNOCK AT MIDNIGHT: A Story of Hope, Justice and Freedom by Brittany K. Barnett (Crown)
THE UNDOCUMENTED AMERICANS by Karla Cornejo Villavicencio (One World)
CASTE: The Origins of Our Discontents by Isabel Wilkerson (Random House)
WAITING FOR AN ECHO: The Madness of American Incarceration by Christine Montross (Penguin Press)
Science and Technology
THE SMALLEST LIGHTS IN THE UNIVERSE: A Memoir by Sara Seager (Crown)
Poetry
POST COLONIAL LOVE POEM by Natalie Diaz (McClelland & Stewart, a division of Penguin Random House Canada)
To view all of the finalists for the LA Times Book Prizes, click here.
Winners will be announced in a live-streamed ceremony and on Twitter (@latimesbooks) on Friday, April 16, the day before the 26th Los Angeles Times Festival of Books kicks off its second virtual event during the ongoing pandemic. Special category winners also will be celebrated that day.
Posted: March 3, 2021