Our Appreciation for Teachers Nationally: PRH 2018 Teacher Awards at NCTE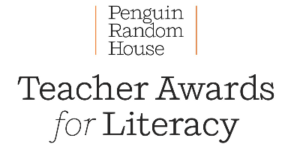 The Penguin Random House Foundation's 2018 Teacher Awards for Literacy winners received their well-deserved grants at the National Council of Teachers of English (NCTE) Annual Convention during its opening session on November 15 in Houston, TX. These hard working educators applied to the PRH Teacher Awards for Literacy and earned the top awards by successfully engaging their students to become lifelong readers through unique reading programs like our first place recipient's "MONSTER LITERACY NIGHT" and the Maya Angelou Teacher Award for Poetry recipient's "DRAFGON FLY CAFÉ." Each unique reading program connected student readers with students outside their classrooms as well as the greater local community – creating even a greater impact.
Penguin Random House awarded two $10,000 first-place grants, one $5,000 second-place grant, one $2,500 third-place grant and one $1,000 honorable mention award grant to the teachers to continue their programs and help share them with other teachers around the country. Ten additional runner-ups each receive $250 grants and books donations. The 2018 winners are:
Amanda Whatley for "MONSTER LITERACY NIGHT" –$10,000 Grant Recipient, English Teacher, Uwharrie Charter Academy – Asheboro, North Carolina
Joanna Fox for "DRAGON FLY CAFÉ" – $10,000 Maya Angelou Grant Recipient, Creative Writing Visual and Performing Arts Teacher, Booker Middle School – Sarasota, Florida
Angie Gibbs for "TEEN BOOK BAG – READ, RETURN, REPEAT"– $5,000 Grant Recipient, High School English Teacher, Irvington Preparatory Academy – Indianapolis, Indiana
Claudine James for "REWARDING READERS"– $2,500 Grant Recipient, ELA Teacher, Malvern Middle School – Malvern, Arkansas
Karen Huberty for 'READING ACROSS GENERATIONS" – $1,000 Grant Recipient, Middle School Teacher, Dakota Hills Middle School – Eagan, Minnesota.
Ms. Fox said, "It was beyond exciting to be recognized and feted for what I am blessed to get to do with my students every day. Thank you, Penguin Random House!"
Ms. Whatley said "Receiving this recognition has further ignited my passion for innovation! Knowing that others see what I'm doing and are excited about it – now that's amazing."
More than 1,500 NCTE educators from around the country joined in this awards celebration.
Pictured, left to right: Alan Walker, Vice President, Director, Education Marketing; Maya Angelou Award Winner Joanna Fox, Teacher, Booker Middle School (Sarasota, FL); Melanie Fallon-Houska, Director, Corporate Giving, Penguin Random House Foundation; Emily Kirkpatrick, Executive Director, National Council of Teachers of English; and PRH Teacher Awards for Literacy First Place Winner Amanda Whatley, Teacher, Uwharrie Charter Academy (Asheboro, NC).
Melanie Fallon-Houska, Director of Corporate Giving, Penguin Random House, said, "It's an incredible honor to present this year's Teacher Awards for Literacy and to celebrate these educators for their unique programs motivating and inspiring the nurturing of lifelong readers. As the leading sponsor at this year's NCTE Conference, Penguin Random House is proud to support professional development for teachers and its importance for student learning and achievement."
Pictured, left to right: Melanie Fallon-Houska, with Second-Place Award Winner Angie Gibbs; Maya Angelou Award for Poetry Winner Joanna Fox; Third-Place Award Winner, Claudine James; First-Place Award Winner Amanda Whatley; and Emily Kirkpatrick, Executive Director, National Council of Teachers of English.
For the third year in a row, the Penguin Random House Education team hosted the "Conversations on Literacy" breakfast at the Conference. Our colleagues joined with leaders of The Moth Education Program to bring together more than 35 teachers and administrators from grades K-12 to learn about ways that storytelling can be a part of educational spaces, the impact it can have on classroom community and individual development, and how it can enhance children's literacy. The 2018 Teacher Award for Literacy recipients were among those participants who engaged with each other in authentic ways as they shared story ideas and feedback. The Moth workshop concluded with a discussion of tools to help participants take their work further, places to share their stories, and ways to design storytelling units that enhance work with memoirs and creative non-fiction in the classroom.
Immediately following their work with The Moth, Penguin Random House Education Marketing teams from both adult and children's publishers moderated grade-level specific focus groups where participants continued discussions on curriculum development. Each attendee received a curated bag of memoirs, personal narratives, and other resources to spark ideas for future units.
"This yearly event remains a conference highlight, with educators commenting on the positive impact of Penguin Random House's partnership in the K-12 space. Many participants returned to our booth throughout the conference to continue conversations. The success of this program is the result of a collaborative effort between K-12 Education Sales and the education marketing teams from Random House, Penguin, Knopf Doubleday, Penguin Young Readers, Random House Children's Books, Crown, PRH Publisher Services, and PRH Audio," said Travis Temple, Sales Director, K-12 Education, Penguin Random House.
More information regarding this year's teacher recipients go to: http://foundation.penguinrandomhouse.com.
Posted: November 21, 2018