Our Author Celeste Ng and We Need Diverse Books Partner to Launch Adult Publishing Internship Grants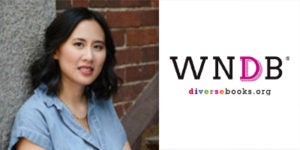 Celeste Ng, #1 New York Times bestselling author of LITTLE FIRES EVERYWHERE and EVERYTHING I NEVER TOLD YOU, has partnered with We Need Diverse Books, a national grassroots organization that advocates for diversity in children's literature, to launch two new internship grants in adult publishing. These grants aim to make internships and the pathways to careers in publishing more accessible to those from diverse backgrounds.
Starting in summer 2021, two grants of $2,500 each will be awarded to interns at a publishing house or literary agency, continuing for at least five years. Through its current grant program, We Need Diverse Books has supported interns in children's publishing, where many have begun full-time jobs in the industry.
In the press release announcing the program, Ng said: "As a writer of color as well as a mother of a young multiracial child, I'm grateful for all that We Need Diverse Books does to promote inclusion in publishing. I've been wanting to find a way to give back for a long time. I'm proud to partner with WNDB to make an internship in publishing feasible for more diverse applicants through these grants."
To support Ng and this program, Penguin Random House will host an event next summer to welcome the interns into the larger publishing community. Penguin Random House is thrilled to support Ng and We Need Diverse Books develop a community of emerging publishing talent. Penguin Random House and We Need Diverse Books have a strong partnership history, including expanding the Creative Writing Awards to be a national scholarship competition which awards $50,000 in college scholarship funds annually.
More details about the event for the awarded interns will become available closer to the date.
Posted: March 9, 2020