Our Author Janice Kaplan Launches "The Gratitude Diaries" Podcast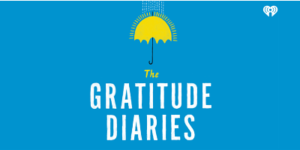 Dutton author Janice Kaplan has launched a new podcast called The Gratitude Diaries. A daily show that will release new episodes Monday through Friday, The Gratitude Diaries relies on personal experience and extensive research to explore how gratitude can transform everything from your marriage to your career success. Kaplan spoke to neurologists, psychologists, doctors and Noble Prize winners, and she draws on her book of the same name as well as newer research to share science-based findings about gratitude in the podcast.
In a recent survey, 90% of Americans said they believed that grateful people are happier but only about half that number said they actually expressed gratitude. So Kaplan provides practical, down-to-earth tips about how to close what she calls "the gratitude gap" and make everything seem a little better, even in these most challenging of times. "What if you had the chance to make yourself happier every day, in every aspect of your life?" she asks in the show's trailer.
Learn more and subscribe to The Gratitude Diaries on Apple Podcasts, Spotify or wherever you get your podcasts.
Janice Kaplan is the New York Times bestselling author of The Gratitude Diaries: How a Year Looking on the Bright Side Can Transform Your Life and, more recently, The Genius of Women. Both books were published by Dutton and are also available from Penguin Random House Audio. Kaplan was the former Editor-in-Chief of Parade Magazine and has written over fourteen books but this show marks her first foray into podcasting. The Gratitude Diaries was produced by the Author Platforms team in partnership with iHeart Radio, whose podcast network has 160M monthly downloads and whose broadcast network covers 850 stations nationwide.
Posted: June 30, 2020