Berkley Author William Gibson Named 35th Damon Knight Grand Master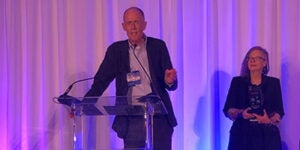 On Saturday, May 18, groundbreaking speculative fiction author William Gibson was named the 35th Damon Knight Grand Master by the Science Fiction and Fantasy Writers Association (SFWA). The award was presented by SFWA President Cat Rambo at the 54th Annual Nebula Conference and Awards Ceremony in Woodland Hills, California.
Rambo said Gibson "forged a body of work that has played a major part in the coalescing of the cyber punk movement, influencing dozens of writers of cinema, fiction, and games among other creations… To be a SFWA Grand Master is to be a speculative fiction writer who has shaped the genre and made it what it is today. William Gibson fills that role abundantly."
In his speech, Gibson thanked his editors, particularly the female editors who inspired and cultivated his work. His editors include former Ace/Berkley Editor-in-Chief and Vice President Susan Allison, who worked with him throughout most of his career, and his current editor, Ace/Berkley Senior Editor Jessica Wade, "a remarkably good editor" who helped him say he is "in recovery from writing his latest novel."
The Damon Knight Memorial Grand Master Award recognizes lifetime achievement in science fiction and/or fantasy. Several Ace and Berkley authors are among the recipients including Ursula K. Le Guin, Robert A. Heinlein, Peter S. Beagle, and Joe Haldeman.
Posted: May 23, 2019