Our #BannedBooksWeek Reading List #1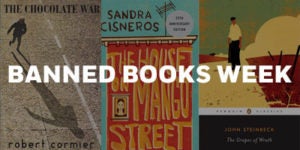 Throughout Banned Books Week, September 23 – 29, we will be highlighting frequently banned and challenged books to help raise awareness of how the right to freedom of expression and the protection against censorship are essential to the development of our society and cultures around the world. Keep reading for Banned Books reading list inspiration, and stay tuned all week for more recommendations.
THE HOUSE ON MANGO STREET by Sandra Cisneros
Challenge Reason: Promoting overthrow of the government
Told in a series of vignettes—sometimes heartbreaking, sometimes deeply joyous—it is the story of a young Latina girl growing up in Chicago, inventing for herself who and what she will become.
THE GRAPES OF WRATH by John Steinbeck
Challenge Reasons: Obscene language, sexual references
First published in 1939, Steinbeck's Pulitzer Prize–winning epic of the Great Depression chronicles the Dust Bowl migration of the 1930s and tells the story of one Oklahoma farm family, the Joads, driven from their homestead and forced to travel west to the promised land of California.
THE CHOCOLATE WAR by Robert Cormier
Challenge Reasons: Adult language, frequent sexual references, and violence
One of the most controversial YA novels of all time, The Chocolate War is a modern masterpiece that speaks to fans of S. E. Hinton's The Outsiders and John Knowles's A Separate Peace. After suffering rejectionfrom seven major publishers, The Chocolate War made its debut in 1974, and quickly became a bestselling—and provocative—classic for young adults. This chilling portrait of an all-boys prep school casts an unflinching eye on the pitfalls of conformity and corruption in our most elite cultural institutions.
Posted: September 23, 2018