Our #BannedBooksWeek Reading List #2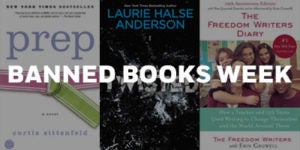 Throughout Banned Books Week, September 23 – 29, we will be highlighting frequently banned and challenged books to help raise awareness of how the right to freedom of expression and the protection against censorship are essential to the development of our society and cultures around the world. Keep reading for Banned Books reading list inspiration, and stay tuned all week for more recommendations.
Challenge Reason: Pornographic
Curtis Sittenfeld's debut novel, Prep, is an insightful, achingly funny coming-of-age story as well as a brilliant dissection of class, race, and gender in a hothouse of adolescent angst and ambition.
TWISTED by Laurie Halse Anderson
Challenge Reasons: Offensive language, sexually explicit, drug and child abuse, suicide
Attracting the queen bee Bethany Milbury's attention sets off a string of events and changes that have Tyler questioning his place in the school, in his family, and in the world. Acclaimed Laurie Halse Anderson tackles a very controversial subject: what it means to be a man today.
THE FREEDOM WRITERS DIARY by Erin Gruwell
Challenge Reasons: Racial slurs and sexual content
As an idealistic twenty-three-year-old English teacher at Wilson High School in Long beach, California, Erin Gruwell confronted a room of "unteachable, at-risk" students. One day she intercepted a note with an ugly racial caricature, and angrily declared that this was precisely the sort of thing that led to the Holocaust—only to be met by uncomprehending looks.
Posted: September 25, 2018