Our #BannedBooksWeek Reading List #3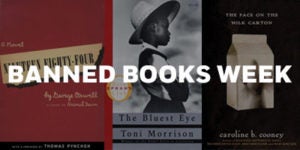 Throughout Banned Books Week, September 23 – 29, we will be highlighting frequently banned and challenged books to help raise awareness of how the right to freedom of expression and the protection against censorship are essential to the development of our society and cultures around the world. Keep reading for Banned Books reading list inspiration, and stay tuned all week for more recommendations.
THE BLUEST EYE by Toni Morrison
Challenge Reasons: Offensive language, sexually explicit, unsuited to age group, violence
The Bluest Eye, published in 1970, is the first novel written by Toni Morrison, winner of the 1993 Nobel Prize in Literature. It is the story of eleven-year-old Pecola Breedlove—a black girl in an America whose love for its blond, blue-eyed children can devastate all others—who prays for her eyes to turn blue: so that she will be beautiful, so that people will look at her, so that her world will be different.
Challenge Reason: Pro-communist
More relevant than ever before, 1984 exposes the worst crimes imaginable—the destruction of truth, freedom, and individuality. The story of one man's nightmare odyssey as he pursues a forbidden love affair through a world ruled by warring states and a power structure that controls not only information but also individual thought and memory, 1984 is a prophetic, haunting tale. A masterpiece of rebellion and imprisonment, where war is peace, freedom is slavery, and Big Brother is watching…
THE FACE ON THE MILK CARTON by Caroline B. Cooney
Challenge Reasons: Sexual content, challenge to authority, and inappropriate for age group
No one ever really paid close attention to the faces of the missing children on the milk cartons. But as Janie Johnson glanced at the face of the ordinary little girl with her hair in tight pigtails, wearing a dress with a narrow white collar —a three-year-old who had been kidnapped twelve years before from a shopping mall in New Jersey—she felt overcome with shock. She recognized that little girl—it was she. How could it possibly be true?
Posted: September 26, 2018