Our #BannedBooksWeek Reading List #4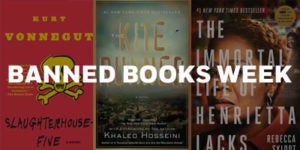 Throughout Banned Books Week, September 23 – 29, we will be highlighting frequently banned and challenged books to help raise awareness of how the right to freedom of expression and the protection against censorship are essential to the development of our society and cultures around the world. Keep reading for Banned Books reading list inspiration, and stay tuned all week for more recommendations.
THE IMMORTAL LIFE OF HENRIETTA LACKS by Rebecca Skloot
Challenge Reason: Pornography
Her name was Henrietta Lacks, but scientists know her as HeLa. She was a poor black tobacco farmer whose cells—taken without her knowledge in 1951—became one of the most important tools in medicine, vital for developing the polio vaccine, cloning, gene mapping, and more.
THE KITE RUNNER by Khaled Hosseini
Challenge Reasons: Offensive language, unsuited to age group, violence
The unforgettable, heartbreaking story of the unlikely friendship between a wealthy boy and the son of his father's servant, The Kite Runner is a beautifully crafted novel set in a country that is in the process of being destroyed. It is about the power of reading, the price of betrayal, and the possibility of redemption; and an exploration of the power of fathers over sons—their love, their sacrifices, their lies.
SLAUGHTER-HOUSE FIVE by Kurt Vonnegut
Challenge Reasons: Promotes anti-Christian activity and sexuality
Slaughterhouse-Five is one of the world's great anti-war books. Centering on the infamous firebombing of Dresden, Billy Pilgrim's odyssey through time reflects the mythic journey of our own fractured lives as we search for meaning in what we are afraid to know
Posted: September 27, 2018