Our Colleague Jessica Wells Summits Mt. Kilimanjaro: Her Story & Photos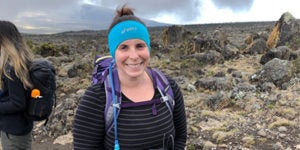 Climbing the highest mountain in Africa requires rigorous training, a long-range plan, strong drive, courage and commitment; Jessica Wells, Director, Customer Operations, Penguin Random House, exhibited all of these as she successfully summited Mt. Kilimanjaro last month. In this special Igloo Interview, Jessica talks about what inspired her to take on this personal challenge, offers colorful insights into her remarkable journey and trek (accompanied by some amazing photos), and shares what accomplishing this feat meant to her.
What was involved in your decision to climb Mt. Kilimanjaro and how did you prepare for this expedition?
I've thought about doing a climb like this for many years. I've always admired others I've seen achieve this accomplishment and knew that one day I wanted to do something similar. I started receiving frequent e-mails from Team in Training about their Climb 2 Cure program. Having participated in several other events with Team in Training to raise money for the Leukemia and Lymphoma Society, I felt like this was the perfect opportunity to move forward with a challenge I'd had in the back of my mind for so long. I was also at a point where I wanted to shake things up and push myself to focus on a larger goal outside of my regular day-to-day. So as a birthday present to myself, I finally committed and put the deposit down for this trip back in October 2017.
Honestly, I leapt into this and didn't know the first thing about what I was doing. My idea of camping involved wooden cabins and legitimate cots. My version of hiking never lasted more than a day and always ended with a great meal at a brewery. I had a lot to learn. Thankfully my friend and PRH colleague, George Kantor, is fully versed in the world of backpacking and offered to train me and our other friend (also a former Penguin) for this experience!
We spent the past year learning about outdoor gear, how to pack only the items we'd absolutely need, and becoming regulars at REI. We carved out several weekends over the spring and summer to venture to the Catskills and the Adirondacks. Starting with day hikes, we quickly progressed to overnight backpacking trips and culminated in a 5-day "capstone" trip at the end of August. These weekends always included a challenging route reaching several peaks, at least one life-threatening experience, and most importantly – a lot of laughs.
Throughout the fall, I couldn't get out of the city to hike that often. So I had to get creative. I'd strap my boots on, load up my pack with weights and walk the 9 to 11 miles from my apartment in Brooklyn to the UES on Sundays to watch football with my friends. Or, while home for the holidays, I made use of the California state parks.
Then, all of a sudden, January came around… a year of preparation was complete and it was time to put it all to the test.
Take us through the experience – from your flight to Africa to reaching the summit.
My friend and I flew through Amsterdam to Kilimanjaro where we disembarked into a tiny airport filled with other hikers about to start the same journey. The next morning, we met our head guides Fredrick and Augustine, who gave us an orientation of what to expect for each day of the trek (they've each summited Kilimanjaro over 300 times). The rest of the day was spent touring around the town of Moshi, and grabbing any last remaining items we might need for the mountain.
The next day we arrived at the Kilimanjaro National Park gate to register, weigh our bags, and assemble our team of porters, etc. We were a small group of 5 women hikers, but this required a crew of 23 people! This included our 2 head guides, 1 assistant guide, a cook, assistant cook, toilet crew, a camp manager, and 16 porters. Our team was amazing, and watching these men run up the mountain carrying over 60 pounds on their heads and back was jaw-dropping.
Our group hiked the 8-day Lemosho route which offered the best view of the mountain and took us through several different ecosystems (rain forest, heather moorlands, alpine dessert). At 45 miles, this longer route allowed us more time to acclimate and a better chance of summiting. Our hiking days varied between 4 to 9 miles each and usually consisted of at least 3,000 ft of elevation gain. By the 3rd day, we all began to feel the shift in elevation and noticed our breathing becoming a little more labored. On the 5th day, we hit the famous Barranco Wall which is a 1,000 ft. vertical cliff face that required a lot of rock scrambling. Somedays our small group would have the whole trail to ourselves, and other days we'd be jostling over the many other groups making their way to the summit.
But we were by no means roughing it – Every day we were awakened around 6:00 a.m. by our cook presenting us with hot coffee or tea in our tents. Every meal consisted of at least 2, sometimes 3 delicious courses and we were even provided with a functioning toilet while in camp. Compared to my training trips, this was luxurious!
After 6 days of hiking through the park, with Kilimanjaro always in our sights, we'd reached Barafu Base Camp… and it was officially summit night. After a short nap, we were awakened at 10:00 p.m. in order to have "breakfast" and begin our accent in the middle of the night. Our small group joined the many of other twinkling headlamps making their way slowly up the mountain. We lucked out with extremely clear weather, so I could see a full sky of stars above as well as the abundance of lights from the towns of Moshi and Arusha at the foot of the mountain.
The trek from base camp was 3 miles and 4,000 vertical feet up. Battling the cold and thin air for that long was grueling. There were moments where I wasn't sure if I would make it – my body was beginning to rebel as I got higher, but my mind was as lucid as ever… So I locked into that and just pushed forward. All my concentration was focused on breathing and placing one foot slowly in front of the other (Pole Pole as the Tanzanian saying goes)… step, breathe, step, breathe… This is what I'd been working towards for over a year. A goal that got me outdoors and out of a funk… Step, breathe became my mantra and I thought about all the people back home cheering me forward. There was no way I'd come all this distance to have to turn around!
After 7.5 hours I reached Stella Point at about 18,880 ft – legitimately by the skin of my teeth. Although the sun was just beginning to rise, the cold and wind seemed to be getting worse. I was concerned the guides would tell me I was done… but mine just looked me in the eye, pointed down the path and said "go"… which I did, without thinking twice (or maybe without thinking at all at that point). But I was determined to make it the last hour to Uhuru Peak (the summit at 19,341 ft.) – and then I broke out in tears when I reached that sign. I did it.
What were the most rewarding aspects of this adventure and accomplishment?
This was a completely amazing, emotional, and fulfilling experience. There is still so much for me to unpack about how it has touched and shaped me … but for now, I'm just so proud of myself. I'm also grateful to have been able to have this experience, to have mentally overcome any doubts, and to have had an amazing support network including my PRH family.
From the people I met, to the physical challenges and rewarding conclusion… this is an experience that I will never forget.
Posted: February 20, 2019