Our Colleague Thea James Wins Hugo Award for Best Fanzine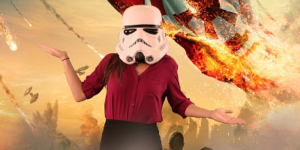 When the 2020 Hugo Awards were announced on Saturday, August 1, it was revealed that our Penguin Random House colleague Thea James, Director, Digital Operations, won the Hugo for Best Fanzine for The Book Smugglers, which she edits with Ana Grilo. Our warm congratulations to Thea and Ana!
The Hugos are the most prestigious prizes in the science fiction genre, honoring literature and media as well as fan activities. The awards, voted on by members of the World Science Fiction Convention (Worldcon) and sponsored by the World Science Fiction Society, were first presented in 1953, and have been presented every year since 1955. To view all of the 2020 Hugo Awards winners, click here.
On the occasion of this well-earned honor, Thea agreed to share her thoughts with us in the following Igloo interview:
What does winning this Hugo Award mean to you?
Winning this particular award (Best Fanzine) in this particular year (2020, am I right?) is incredibly powerful and meaningful.
Winning a Hugo has been an elusive endeavor for us Smugglers. Since 2014, we have been nominated for a Hugo 5 times across 3 categories: Best Fanzine (2), Best Semiprozine (2), Best Related Work (1)—and prior to this year, we've lost every time. It's not so bad, though, to be a "Hugo Loser." In fact, it's a kind of a longstanding tradition and point of pride!
This year, Ana and I took home the award for Best Fanzine. The distinction between fanzine and semiprozine can be diced in a couple of ways, but ultimately it boils down to one clear distinction: a semiprozine is one that charges money for its content or has paid contributors, while fanzines are a wholly free endeavor. Winning the award for Best Fanzine is a homecoming of sorts—it was the first award we were ever nominated for, and one that celebrates the labor of love that goes into running a blog.
More importantly than the award itself is the timeframe for the award. 2020 is a watershed year. It is a year marked by hardship and uncertainty as the coronavirus pandemic continues its spread across the globe, but it is also a time of powerful change, forcing us to confront our prejudices and biases—this includes the SFF community at large. The Book Smugglers is run by two loud, opinionated women on the internet—one of us a biracial Filipina-American, the other a Brazilian—and our mission has always been to find, share, and amplify diverse voices.
Within the microcosm of sci-fi and fantasy genre fiction and the context of the Hugos (voted upon by the members of the World Science Fiction & Fantasy Convention), earning the honor of this award in this time of change means multitudes.
What inspired you and Ana to create The Book Smugglers?
Our origin story begins with the television show Lost. Both Ana and I are huge nerds, and we actually met on an internet forum for Lost (Lost-Forum, The Fuselage, DarkUFO, MSA… we were everywhere). We both had very strong opinions about certain characters and even authored a 40+ page long Grand Unified Theory of Desmond (spoiler alert: the theory was very wrong, and Desmond was not the GUT of anything). On said Lost forum, we discovered that we both loved science fiction and fantasy novels—so much so that we started a Books sub-forum in which we shared other very strong opinions about works of SFF (Harry Potter and the Deathly Hallows came out right around this time). Eventually after months of DMs (direct messages), we decided to take things to the next level, and started our very own website.
How to do you envision The Book Smugglers evolving in our ever-changing world?
Since the early days of The Book Smugglers in 2008, we have gone through many iterations—from a humble blogspot-hosted blog, to Kickstarter-funded indie digital publisher of short stories from the likes of Roshani Chokshi, S.L. Huang, and John Chu. We've moved away from editing and publishing other writers in recent years, and have focused our efforts on our roots—writing about books that we love. While we can't predict what the future may hold, we do know that we are still fiercely passionate about SFF and sharing our opinions with the world.
Along the way, there will be some additional works beyond our site—currently, I am working on my first book, a fantasy world-inspired cookbook publishing in 2021 and distributed by Macmillan.
Posted: August 6, 2020