Our Colleagues Give Voice to Creative Writing Awards Winners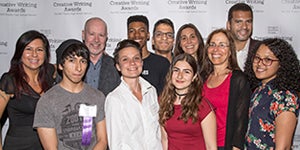 Penguin Random House presented $112,000 in scholarships to 56 New York City public high school seniors during the 2016 Live and Onstage Creative Writing Awards Show on June 7 at NYC's Symphony Space.  The awards presentation included dramatic readings, spoken-word poetry, and graphic-novel presentations from a selection of winners, including this year's newest $10,000 scholarship recipient of the Maya Angelou Scholarship Award for Spoken Word Poetry.
Most students read or performed their owning winning pieces. In addition, this year six of our Penguin Random House colleagues served as actors and actresses for the young writers who were less comfortable onstage and opted to watch their pieces come to life from the audience.
"As soon as I met Keitha (Third Place Poetry Winner), I became exceedingly nervous, hoping I could do her piece NO justice," said Camile Dewing, Senior Copy Manager, Random House. "These students are full of depth and insight beyond their years—and blew me away with their words and performances. It really was an honor to be a part of this night. And I absolutely would do it again."
Leah Richardson, Assistant Manager, eBook Production, Random House agrees: "Volunteering as an actor in the creative writing awards was a really wonderful experience. It was a chance to see Penguin Random House rewarding extremely talented young writers. Their stories were personal and powerful and it was inspiring to spend time with such creative, intelligent young people from the city."
In recognition of the unique vision and voices of these New York City high school students, each submission to the competition was given individual consideration through a multi-level selection process. Entries were judged on their style, form and content. Among this year's judges were Poets & Writers Magazine Publisher Elliot Figman; Penguin Young Readers Executive Editor Rob Valois; and Random House author Billy Collins.
The winning high school seniors and their families, along with teachers and publishing industry guests were joined by Newbery Medalist and Wendy Lamb Books (an imprint of Random House Children's Books) author Rebecca Stead (GOODBYE STRANGER); Crown Books' Tara Clancy, author of the forthcoming memoir THE CLANCYS OF QUEENS; Graphic Novel Author Robert V. Conte; and Elissa Goldstein, English Teacher at Queens High School for Sciences at York College.
Penguin Random House author Rebecca Stead was particularly moved: "I'm not exaggerating when I say I felt changed by the evening. Listening to these kids' words, and watching them perform with such amazing passion and self-possession, was a kind of wake-up call for me. I left thinking, 'I need to get my sons in that room next year.' In fact, I want all kids to get in that room, to be reminded of the power of their own self-expression, to be reminded of their own ability to create. I felt as if those kids had learned to trust themselves."
For a full list of winners and judges as well as more details on the Penguin Random House Creative Writing Awards, click here.
Posted: June 20, 2016