Our Finalists for the 2022 PEN America Literary Awards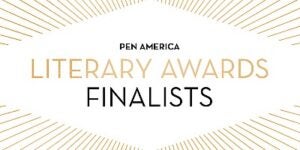 PEN America has announced the finalists for its 2022 Literary Awards in the categories of debut fiction, nonfiction, essay, biography, poetry, science writing, and translation, plus the PEN/Jean Stein Book Award. Our shortlisted titles published by Penguin Random House imprints, and a Penguin Random House Publisher Services client publisher, are presented below.
PEN/Jean Stein Book Award
PEN/John Kenneth Galbraith Award for Nonfiction
PEN/Jacqueline Bograd Weld Prize for Biography
PEN/Hemingway Award for Debut Novel
PEN/Robert W. Bingham Prize for Debut Short Story Collection
PEN/Diamonstein-Spielvogel Award for the Art of the Essay
PEN/E.O. Wilson Literary Science Writing Award
PEN/Voelker Award for Poetry
PEN Award for Poetry in Translation
To view the complete shortlists for 2022 PEN America Literary Awards, click here.
Congratulations to all of our finalists, their editors and publishers.
The 2022 PEN America Literary Awards will be announced at a ceremony at Manhattan'sTown Hall on February 28.
Posted: January 27, 2022