Our Kind of Documentary: HELLO, BOOKSTORE Debuts at Film Forum April 29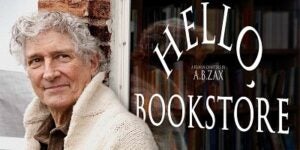 If you are a film-going New Yorker, you know the Film Forum, in Soho, as an incomparable go-to showcase for classic international and American films and stunning documentary discoveries.
On Friday, April 29, the day before Independent Bookstore Day, they will debut one of the latter, which might be a fun, memorable viewing: HELLO, BOOKSTORE.
Here's how Film Forum introduces its presentation:
Film Forum is pleased to present the U.S. theatrical premiere of A.B. Zax's HELLO, BOOKSTORE. "Hello, bookstore," is how Matthew Tannenbaum has answered the phone at his Lenox, Massachusetts independent shop every day since 1976. Charming, avuncular, eccentric, relaxed: a man surrounded by great literature, friendly neighbors, and tree-lined streets in a town where time seems to have stood still. A.B. Zax captures the sensibility of the dedicated reader for whom a bookstore is a tiny piece of paradise, a Brigadoon where one savors great words and ideas merely by browsing its wares. Peppered with passages from My Ántonia (Willa Cather), Beautiful Losers (Leonard Cohen), The Human Stain (Philip Roth), Henry V (William Shakespeare), and poetry by Billy Collins, Robert Frost, and Edna St. Vincent Millay. HELLO, BOOKSTORE is a valentine to human creativity, of both the literary and entrepreneurial kind. When the COVID epidemic renders bookstores off-limits, Tannenbaum needs to regroup, and Zax's story becomes even more inspiring.
"Compelling and heartwarming. Worthy of Hollywood magic created by Frank Capra and Jimmy Stewart." – Thomas Farragher, The Boston Globe
See HELLO, BOOKSTORE filmmaker A.B. Zax and his subject Matt Tannenbaum at these Film Forum screenings:
Friday, April 29 @ 7:00 pm
Saturday, April 30 @ 7:00 pm
Sunday, May 1 @ 4:50 pm
HELLO, BOOKSTORE Film Forum show times:
Daily (except Fri-Sun): 12:40 2:40 4:50 7:00 9:00
Fri-Sat: 12:40 2:40 4:50 7:00 9:20
Sun: 12:40 2:40 4:50 7:10 9:10
To watch the HELLO, BOOKSTORE movie trailer, click on the arrow below:
Enjoy. And let us know what you think.
Posted: April 28, 2022