Our L.A. Times Book Prize Winners and Honorees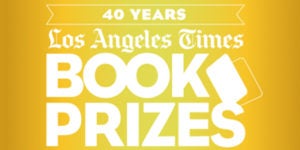 The winners and honorees of the 40th annual Los Angeles Times Book Prizes were announced on Friday, April 17, with six titles published by Penguin Random House imprints earning prizes, and two authors on our lists receiving special awards.
Our L.A. Times Book Prize Winners:
Art Seidenbaum Award for First Fiction
THE OLD DRIFT by Namwali Serpell (Hogarth)
Biography
OUR MAN: Richard Holbrooke and the End of the American Century by George Packer (Knopf)
Current Interest
CHARGED: The New Movement to Transform American Prosecution and End Mass Incarceration by Emily Bazelon (Random House)
Science & Technology
FIGURING by Maria Popova (Vintage)
The Ray Bradbury Prize for Science Fiction, Fantasy and Speculative Fiction
BLACK LEOPARD, RED WOLF by Marlon James (Riverhead)
Young Adult Literature
WHEN THE GROUND IS HARD by Malla Nunn (G.P. Putnam's Sons Books for Young Readers)
Our Special Honorees
Robert Kirsch Award for Lifetime Achievement
Walter Mosley (Vintage Crime/Black Lizard, Berkley, and Riverhead)
Christopher Isherwood Prize for Autobiographical Prose
Vintage author Emily Bernard for her groundbreaking memoir, BLACK IS THE BODY: Stories from My Grandmother's Time, My Mother's Time, and Mine.
Congratulations to our authors, their editors and publishers.
To view the complete list of this year's L.A. Times Book Prize winners and honorees, click here.
Posted: April 21, 2020