---
Our Longlisters for 2019 PEN America Literary Awards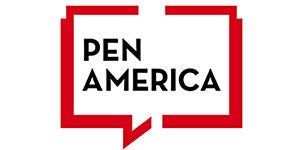 PEN America has announced the longlists for its 2019 Literary Awards in the categories of debut fiction, diversity, nonfiction, essay, biography, sports writing, science writing, and translation. The 17 longlisted titles published by Penguin Random House imprints and Penguin Random House Publisher Services publisher clients are presented below.
PEN/Robert W. Bingham Prize for Debut Fiction
THE ISLAND DWELLERS by Jen Silverman (Random House)
BRING OUT THE DOG: Stories by Will Mackin (Random House)
PEN Open Book Award
THE TERRIBLE: A Storyteller's Memoir by Yrsa Daley-Ward (Penguin Books)
WASHINGTON BLACK by Esi Edugyan (Alfred A. Knopf)
PEN/John Kenneth Galbraith Award for Nonfiction
AMERICAN PRISON: A Reporter's Undercover Journey Into the Business of Punishment by Shane Bauer (Penguin Press)
PEN/Diamonstein-Spielvogel Award for the Art of the Essay
FEEL FREE: Essays by Zadie Smith (Penguin Press)
PEN/Jacqueline Bograd Weld Prize for Biography
PATRIOT NUMBER ONE: American Dreams in Chinatown by Lauren Hilgers (Crown)
LOOKING FOR LORRAINE: The Radiant and Radical Life of Lorraine Hansberry by Imani Perry (Beacon Press, a PRHPS publisher client)
CHALK: The Art and Erasure of Cy Twombly by Joshua Rivkin (Melville House, a PRHPS publisher client)
PEN/ESPN Award for Literary Sports Writing
THE HERITAGE: Black Athletes, a Divided America, and the Politics of Patriotism by Howard Bryant (Beacon Press, a PRHPS publisher client)
BIG GAME: The NFL in Dangerous Times by Mark Leibovich (Penguin Press)
PEN/E.O. Wilson Literary Science Writing Award
THE WORLD IN A GRAIN: The Story of Sand and How it Transformed Civilization by Vince Beiser (Riverhead)
SHE HAS HER MOTHER'S LAUGH: The Powers, Perversions, and Potential of Heredity by Carl Zimmer (Dutton Books)
PEN Translation Prize
THE LIFE AND OPINIONS OF ZACHARIAS LICHTER by Matei Calinescu (NYRB, a PRHPS publisher client)
Translated from the Romanian by Adriana Calinescu
AETHERIAL WOLRDS by Tatyana Tolstaya (Alfred A. Knopf)
Translated from the Russian by Anya Migdal
LOVE by Hanne Ørstavik (Archipelago Books, a PRHPS publisher client)
Translated from the Norwegian by Martin Aitken
PEN Award for Poetry in Translation
A CERTAIN PLUME by Henri Michaux (NYRB, a PRHPS publisher client)
Warm congratulations to all of our PEN longlisted authors, their editors and publishers.
View the complete PEN 2019 Literary Awards Longlists here.
Finalists will be announced later this month. The winners will be celebrated at the 2019 PEN America Literary Awards Ceremony on February 26 at the NYU Skirball Center in Manhattan.
Posted: January 2, 2019