Our NBCC Awards 2016 Honorees and Finalists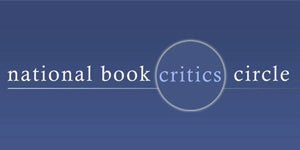 The National Book Critics Circle has announced its awards finalists for the outstanding books of 2016, as well as special awards winners.
Yaa Gyasi's debut novel, HOMEGOING (Alfred A. Knopf) is the recipient of the fourth annual John Leonard Prize, established to recognize outstanding first books in any genre and named in honor of founding NBCC member John Leonard.
Penguin Random House author Margaret Atwood is the recipient of the Ivan Sandrof Lifetime Achievement Award, for her lifetime contribution to letters and book culture, which includes groundbreaking fiction, environmental and feminist activism, and service to community as a cofounder of the Writers' Trust of Canada.
Penguin Random House imprints publish six finalists for the NBCC Awards in the following categories:
FICTION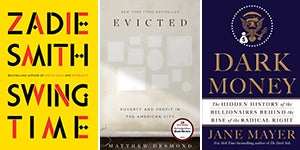 Zadie Smith's SWING TIME (Penguin Press)
GENERAL NONFICTION
Matthew Desmond's EVICTED: Poverty and Profit in the American City(Crown)
Jane Mayer's DARK MONEY: The Hidden History of The Billionaires Behind the Rise of the Radical Right (Doubleday)
AUTOBIOGRAPHY
Hope Jahren's LAB GIRL (Alfred A. Knopf)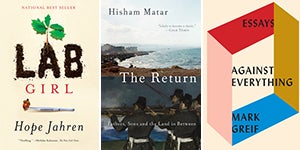 Hisham Matar's THE RETURN: Fathers, Sons, and the Land in Between (Random House)
CRITICISM
Mark Greif's AGAINST EVERYTHING: Essays (Pantheon)
Congratulations to Ms. Gyasi and Ms. Atwood as well as all of our nominees, their editors and publishers.
View a complete list of the NBCC finalists here.
Winners of the NBCC awards will be announced on Thursday, March 16 in NYC at the New School's Tishman Auditorium.
The National Book Critics Circle was founded in 1974 at New York's Algonquin Hotel by a group of the most influential critics of the day, and awarded its first set of honors in 1975.  The NBCC now comprises more than 1,000 working critics and book-review editors throughout the country.  The NBCC annually bestows its awards in six categories, honoring the best books published in the past year in the United States.
Posted: January 18, 2017