Our Nominees for the 2020 James Beard Foundation Awards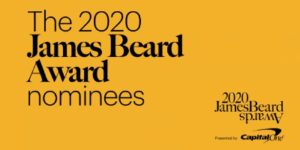 The James Beard Foundation announced the nominees for its 2020 Book, Broadcast Media, and Journalism awards via Twitter this week and also listed Restaurant & Chef award nominees announced earlier this year. Among the nominations are multiple authors and books published by Penguin Random House imprints, led by Clarkson Potter and Ten Speed Press, as well as Knopf and Avery, plus nominations for Taste and PUNCH, and Penguin Random House Publisher Services clients. Congratulations and good luck to all. To view the complete list of this year's James Beard Award nominees, click here.
The 2020 James Beard media award winners, including the Book of the Year Award and the Cookbook Hall of Fame inductee, will be announced online via press release on Wednesday, May 27. The Restaurant & Chef Award winners will be announced on Friday, September 25, from Chicago, broadcast live via the James Beard Foundation's Twitter feed.
Our Book Awards Nominees
Beverage with Recipes
Last Call: Bartenders on Their Final Drink and the Wisdom and Rituals of Closing Time by Brad Thomas Parsons (Ten Speed Press)
The Martini Cocktail: A Meditation on the World's Greatest Drink, with Recipes by Robert Simonson (Ten Speed Press)
The NoMad Cocktail Book by Leo Robitschek (Ten Speed Press)
General
Where Cooking Begins: Uncomplicated Recipes to Make You a Great Cook by Carla Lalli Music (Clarkson Potter)
Health and Special Diets
Gluten-Free Baking at Home: 102 Foolproof Recipes for Delicious Breads, Cakes, Cookies, and More by Jeffrey Larsen (Ten Speed Press)
Cannelle et Vanille: Nourishing, Gluten-Free Recipes for Every Meal and Mood by Aran Goyoaga (Sasquatch Books, a PRHPS publisher client)
American
Cook Like a Local: Flavors That Can Change How You Cook and See the World by Chris Shepherd and Kaitlyn Goalen (Clarkson Potter)
Jubilee: Recipes from Two Centuries of African American Cooking by Toni Tipton-Martin (Clarkson Potter)
Baking and Desserts
Dappled: Baking Recipes for Fruit Lovers by Nicole Rucker (Avery)
Living Bread: Tradition and Innovation in Artisan Bread Making by Daniel Leader and Lauren Chattman
(Avery)
Restaurant and Professional
Eleven Madison Park: The Next Chapter, Revised and Unlimited Edition by Daniel Humm (Ten Speed Press)
Vegetable-Focused Cooking
Vegetables Illustrated: An Inspiring Guide with 700+ Kitchen-Tested Recipes by Editors at America's Test Kitchen (America's Test Kitchen, a PRHPS publisher client)
Writing
Eat Like a Fish: My Adventures as a Fisherman Turned Restorative Ocean Farmer by Bren Smith (Knopf)
Notes from a Young Black Chef: A Memoir by Kwame Onwuachi with Joshua David Stein (Knopf)
Our Broadcast Media Awards Nominees
Outstanding Personality
David Chang, Breakfast, Lunch & Dinner, Airs on: Netflix (Eat A Peach, Clarkson Potter)
Our Journalism Awards Nominees
Home Cooking
"6 Holiday Cookies That Will Win You the Cookie Swap" by Hilary Cadigan and Rick Martinez Bon Appétit (Simple, Modern Mexican (forthcoming) by Rick Martinez, Clarkson Potter)
Wine, Spirits, and Other Beverages
"How Climate Change Impacts Wine" by Eric Asimov, The New York Times (Eric Asimov's Wine Bible (forthcoming) by Eric Asimov, Ten Speed Press)
"Seltzer Is Over. Mineral Water Is Forever." by Jordan Michelman, PUNCH The New Rules of Coffee by Jordan Michelman, Ten Speed Press)
Dining and Travel
"Interview With the Vampiro" by Dylan James Ho, Taste
MFK Fisher Distinguished Writing Award
"An Undeserved Gift" by Shane Mitchell The Bitter Southerner (Far Afield by Shane Mitchell, Ten Speed Press)
Our Restaurant & Chef Awards Nominees
Outstanding Restaurant
Frasca Food and Wine, Boulder, CO (Friuli Food & Wine by Bobby Stuckey, Lachlan Mackinnon-Patterson, and Meredith Erickson, Ten Speed Press)
Outstanding Baker
Maura Kilpatrick, Sofra (Soframiz, with Maura Kilpatrick, Ten Speed Press)
Lisa Ludwinski, Sister Pie (Sister Pie by Lisa Ludwinski, Lorena Jones Books)
Outstanding Chef
David Kinch, Manresa (At Home in the Kitchen (forthcoming) by David Kinch with Devin Fuller, Ten Speed Press)
Donald Link, HerbSaint (Down South by Donald Link with Paula Disbrow, Clarkson Potter)
Missy Robbins, Lilia, (Pasta (forthcoming) by Missy Robbins and Talia Baiocchi, Ten Speed Press)
Ana Sortun (Soframiz, with Maura Kilpatrick, Ten Speed Press)
Marc Vetri, Vetri Cucina (Mastering Bread by Marc Vetri and Claire Kopp McWilliams with David Joachim, Ten Speed Press)
Outstanding Pastry Chef
Margarita Manzke, Republique (Baking at Republique, Lorena Jones Books)
Outstanding Restaurateur
Alex Raij & Eder Montero (The Basque Book, Ten Speed Press)
Outstanding Wine Program
Night + Market, Los Angeles (Night + Market, Clarkson Potter)
Best Chef California
Brandon Jew, Mister Jiu's, San Francisco (Mister Jiu's in Chinatown by Brandon Jew with Tienlon Ho, Ten Speed Press)
Best Chef NYC
Alex Stupak, Empellon (Tacos, Clarkson Potter)
Posted: May 7, 2020