Our PW Star Watch Class of 2023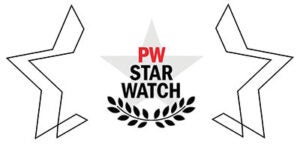 A hearty congratulations to our Penguin Random House colleagues who are being honored in Publishers Weekly Ninth Annual Star Watch Program for their outstanding contributions to the publishing industry.
This year, ten of PRH's brightest became honorees and our very own Madison Jacobs graced the cover of PW as the PW Star Watch Superstar of 2023! All of the honorees were profiled in PW Star Watch 2023 and you can read their profiles here. We couldn't be prouder of the incredible work everyone is doing!
Superstar: Madison Jacobs, Associate Publisher, Crown Publishing Group 
It has been a remarkable ride for Madison Jacobs. Five years ago, she was starting her career as a publishing assistant for the Crown Publishing Group, a division of Penguin Random House. Today, she is associate publisher, a member of Crown's executive leadership team, and a key contributor to some of Penguin Random House's most high-profile recent books, including Spare by Prince Harry and The Light We Carry  by Michelle Obama, both of which were #1 bestsellers. 
"What Madison has achieved in her five years with Crown so far is nothing short of exceptional," says David Drake, president of the Crown Publishing Group and Jacobs's longtime boss. Drake calls Jacobs "the linchpin" that keeps many of the company's most complex projects together. "And that she consistently delivers results with speed, skill, and grace under pressure makes her all the more formidable a talent to watch in her years to come in publishing." 
Read more about her exciting rise, including her crucial work on Prince Harry's SPARE, here. 
Finalist: Jenny Chen, Executive Editor, Ballantine Bantam Dell 
As executive editor for Ballantine Bantam Dell, Chen has an eye for all things mystery, suspense, and thriller. Her first acquisition there was the #1 bestseller All Good People Here by Ashley Flowers, published in August 2022, and subsequent acquisitions include You Can Trust Me by Wendy Heard, Finding Sophie by Imran Mahmood, The Stranger Upstairs by Lisa Matlin, and Jackal by Erin E. Adams—which PW named one of the best books of 2022. 
"I've watched Jenny put her heart and soul into every part of the process, from the editing to the cover concept to being the quarterback of the marketing and publicity teams," says Kara Cesare, v-p and editor-in-chief of Ballantine Bantam Dell, to whom Chen reports. Cesare calls Chen "an exceptionally talented editor who rolls up her sleeves and works tirelessly with her authors to get the best possible version of their stories on the page," adding that "Jenny is the true definition of a star who is on the rise, and she is taking us and her authors with her." 
Read more about her ambitions here. 
Honoree: Nora Alice Demick, Director of Marketing, Riverhead Books 
What advice would you give to a new-to-publishing you? "I wish I had been more proactive in meeting folks from different departments—even different houses!—who held different skills and disciplines. The more you learn about the many indispensable steps, factors, features that move a book forward in its journey toward publication and beyond, the better you will be at crafting well-rounded, creative campaigns that consider how you might reach a reader from every angle. I now have an incredibly supportive community of publishing professionals and friends that extends far behind my wonderful, immediate teammates. Having the opinions and thoughts of all of them has been essential for my growth as both a marketer and a reader and has allowed me to regularly readjust and reconsider how I approach just about every book's campaign." 
Demick was nominated by Jynne Dilling Martin, v-p and deputy publisher at Riverhead Books, who describes the nominee as creative, energetic, and industrious. "A formidable marketer and strategist, Nora Alice has skyrocketed through the ranks to become one of the youngest marketing directors in our industry," Martin says. "She overflows with astonishing idea productivity and creativity: she is never short on resource, inspiration, or helpful suggestions for each and every member of our team. She brings high-level vision, curatorial details, and skillful project management to every title, and she somehow keeps every ball nimbly afloat, no matter how mind-bogglingly enormous or complex a campaign becomes, all with passion, humor, and collaborative zest." 
Honoree: Jennifer Der, Associate Director, Consumer Insights 
What advice would you give to a new-to-publishing you? "My manager said it best—give at least a year to understand the industry. While it may feel like a lot to take in, publishing is filled with passionate people who care about bringing the best stories to readers. Set up coffee chats, ask questions, and own the unique perspective you bring!" 
What advice would you give to someone interested in joining the industry today? "Publishing is unlike any other environment I've worked in. Everyone is dedicated to the same thing—fostering a love of reading—and if you have the opportunity to join, it's as rewarding as it sounds. My advice is to find as many ways to add value in your role. If you don't know where to start, befriend your insights team! As readers are changing constantly, it's important to stay connected with the people who buy books to put their needs at the center of all decision-making." 
Der was nominated by Grant Griglak, senior director, consumer insights, at Penguin Random House, who describes the nominee as curious, thoughtful, and optimistic. "Jenn's expertise as a researcher is expected of someone in her role, but her ability to bring compassion for both the reader and her colleagues continually impresses," Griglak says. "Her passion for unearthing meaningful insights and telling the story of the reader is her North Star, and our team is so grateful to work alongside this rising star in her own right." 
Honoree: Jake Eldred, Associate Director, Managing Editorial, Random House Children's Books 
What advice would you give to someone interested in joining the industry today? "Because it's possible to grow in so many different directions in the industry, I'm a huge advocate for checking in with yourself regularly, and honestly: What aspects of work make you happy? What is fulfilling? What is sustainable? I think asking those questions, early and frequently, can help you find a long-term home—particularly the question about what is sustainable. Loving books is a huge part of what motivates us all, but you need to love yourself as much you love the books you work on." 
Eldred was nominated by Janet Foley, v-p and executive director, managing editorial and copyediting at Random House Children's Books, who describes the nominee as collaborative, proactive, and dedicated. "I nominated Jake because his involvement in any task directly contributes to its success," Foley says. "From Michelle Obama's Becoming: Adapted for Young Readers to Christopher Paolini's upcoming Murtagh, Jake masterfully manages high-pressure, high-profile projects with a commanding yet gentle hand. When Jake's overseeing a project with countless moving parts and challenging logistics, folks can trust that he is thinking of all the things they may be forgetting and that he has meticulously planned for every possible scenario. His attention to detail is legendary at Random House Children's Books—as is his reputation for going above and beyond for his co-workers and our books." 
Honoree: Madison Furr, Senior Publicist, Random House Children's Books 
What advice would you give to a new-to-publishing you? "Don't be scared to share any ideas you have, no matter how silly and unattainable they may seem, or even if you think it might be something that's been done before. You never know what might actually be possible, and sharing ideas might spark a thought from someone else that could lead to the golden ticket. Collaborative brainstorms have become some of my favorite meetings, and I love when people come to me for ideas. I wish I wasn't so hesitant to share what came to mind for so long. There's no telling what you can do as long as you don't keep your ideas to yourself!" 
Furr was nominated by Kathy Dunn, director of publicity at Random House Children's Books, who describes the nominee as passionate, hardworking, and creative. "I nominated Madison Furr because she truly is a star in the making," Dunn says. "Her passion and enthusiasm for books and authors, her creativity in developing new campaign ideas for projects and authors ranging from Dr. Seuss to Carl Hiaasen, and her easygoing nature and willingness to help her colleagues while juggling a busy workload of her own make her such a pivotal member of our team." 
Honoree: Chloe Goodhart, Senior Publishing Manager, Penguin Young Readers 
What advice would you give to a new-to-publishing you? "Don't be afraid to reach out to colleagues who interest and inspire you. A short coffee or video call is a great way to get to know your coworkers and to learn as much about every corner of this business as you can. And relax! Working in books is the most fulfilling and fun job I can imagine, and I get to do it with some of the nicest and smartest people in the business. Enjoy it!" 
Goodhart was nominated by Anna Dobben, literary director of the San Antonio Book Festival. Answering for Dobben, Stephanie Sabol, v-p of brand and content development strategy at Penguin Young Readers, describes Goodhart as resourceful, strategic, and curious. "Chloe has an incredible wealth of knowledge of many different parts of the publishing process," Sabold says. "She connects the dots between the creative and the business—a skill that not everyone can accomplish." 
Honoree: Whitney Leopard, Senior Editor, Random House Graphic 
What advice would you give to a new-to-publishing you? "Be patient with yourself and take your time. Don't listen to people when they say publishing slows down, it never does, so you need to find a work/life balance that suits your schedules and needs. Figure out your boundaries early because bad habits are hard to break down the line." 
What advice would you give to someone interested in joining the industry today? Look beyond what your immediate interests are. When I realized that I wanted to pursue editorial, I had wanted to work on adult stories, but my first break was in children's, and I ended up falling in love with the challenges and nuance that you face when working with books for younger readers. Keep your mind open and if an opportunity arises take it, even if it isn't what you think you want for yourself at the time. You might end up finding a calling you hadn't realized was there. 
Leopard was nominated by Kiara Valdez, editor at First Second, who describes the nominee as determined, supportive, and generous. "Whit is one of those few comics editors that now has a well-rounded big-picture view of the coAll Pagesmics industry since she's worked both in direct market and trade publishing," Valdez says. "Considering how siloed the two different parts of the industry are, I think this is a terrific asset." 
Honoree: Marie Pantojan, Senior Editor, Random House 
What advice would you give to someone interested in joining the industry today? "Connect with people both inside and outside of your specific imprint who share your values and who can be transparent with you about things like salaries, job opportunities, office cultures, etc. so that you can walk into or away from jobs with as much information as possible. Basically, friends make this job way easier and more pleasant." 
Pantojan was nominated by Ben Greenberg, v-p and editor-in-chief of Random House, who describes the nominee as smart, collaborative, and kind. "Marie is an incredibly smart and astute reader and editor," Greenberg says. "She possesses a remarkable clarity of thought and is able to bring that to her authors in many ways, through editing, positioning, problem-solving, and brainstorming. Her broad interests also allow her to work across genres—science, journalism, literary fiction, sports, etc.—in an organic and authentic way. She is a wonderful champion for her authors and a kind and collaborative colleague to her fellow editors." 
Honoree: Shannon Spann, Manager, Digital Marketing, Penguin Young Readers 
What advice would you give to a new-to-publishing you? "Be ready to pivot, pivot, and then pivot again. The landscape of social media is always rapidly changing. What was performing today might not perform tomorrow. What's trendy today might be cringe next week. The content calendar I planned out a few years ago full of polished book photos for Instagram looks nothing like the tedious hours of crafting clever Instagram graphics and carousels that fill my schedule now." 
Spann was nominated by Lauren Festa, associate director, digital marketing, at Penguin Young Readers, who describes the nominee as energetic, creative, and dedicated. "Shannon is special because she's an incredible team player and dedicated marketer," Festa says. "She goes out of her way to coach authors across our division" and "provide insights to teams throughout the company." 
Posted: October 9, 2023