Our Three Finalists for the 2019 George Washington Prize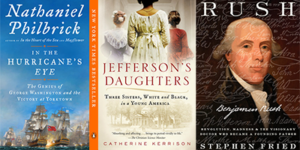 Finalists have been announced for the 2019 George Washington Prize, which recognizes the "best written works on the nation's founding era, especially those that have the potential to advance broad public understanding of early American history."
The $50,000 prize, co-sponsored by the Gilder Lehrman Institute of American History, George Washington's Mount Vernon, and Washington College, ranks among the largest and most prestigious honors in the literary history genre.
Penguin Random House is proud to have three of our authors among the esteemed list of finalists:
Stephen Fried for RUSH: Revolution, Madness, and Benjamin Rush, the Visionary Doctor Who Became a Founding Father (Crown)
Catherine Kerrison for JEFFERSON'S DAUGHTERS: Three Sisters, White and Black, in a Young America (Ballantine Books)
Nathaniel Philbrick for IN THE HURRICANE'S EYE: The Genius of George Washington and the Victory at Yorktown (Viking)
Congratulations to our authors, their editors and publishers.
To view the complete list of finalists, click here.
A final selection committee made up of two representatives from each of the three sponsoring institutions, plus an independent historian, will review the finalists and choose a winner to be presented with the prize at a New York City gala in the fall.
Posted: July 15, 2019