OUR UNFINISHED MARCH by Eric Holder and Sam Koppelman Coming from One World in May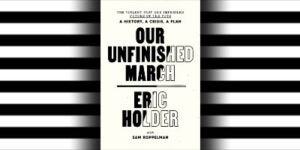 One World will publish OUR UNFINISHED MARCH: The Violent Past and Imperiled Future of the Vote—A History, a Crisis, a Plan by Eric Holder, former U.S. Attorney General and current chairman of the National Democratic Redistricting Committee on May 10, 2022. Writing with Sam Koppelman, Holder presents a chronicle of the brutal, bloody, and at times hopeful history of the vote; a frontlines account of how opponents are fighting to take it away; and a powerful playbook for how we can save our democracy before it's too late. North American publishing rights for OUR UNFINISHED MARCH were acquired by One World Publisher Chris Jackson from Gail Ross at Ross Yoon Agency.
"This book is about the most important issue that this nation has continually faced: the attack on our right to vote. The current situation has only become more dire since Sam and I started writing a year ago," said Attorney General Holder, "but while it's been a devastating past few months in this latest fight, OUR UNFINISHED MARCH isn't a pessimistic book. It's a hopeful and realistic one—about how we only became a democracy in the first place because, at moments exactly like this, people committed to making real the right to vote refused to give up. And that's the task before us once again: doing the long, hard work of making sure America can finally become a country where every voice is heard and where every vote is counted."
"They say don't meet your heroes—and then there's Attorney General Holder," said Sam Koppelman. "OUR UNFINISHED MARCH has a clear message: Yes, it's brutal out here, but progress is still possible, as long as we stop doom-scrolling and start putting in the work. This book is about the debt we owe to the generations before us—and the responsibility we have to the ones we'll pass our democracy onto—to keep marching."
In OUR UNFINISHED MARCH Holder takes readers through three dramatic stories of how the vote was won: first by white men, through violence and insurrection; then by white women, through protests and mass imprisonments; and finally, by African Americans, in the face of lynchings and terrorism. Next, he dives into how the vote has been stripped away since Shelby—a case in which Holder was one of the parties. He ends with visionary chapters on how we can reverse this tide of voter suppression, transform undemocratic institutions like the Senate, the Electoral College, and the Supreme Court, and finally become a true democracy.
Eric Holder is a civil rights leader who is chairman of the National Democratic Redistricting Committee. He served as the eighty-second attorney general of the United States, the first African American to hold that office. Now a senior counsel at Covington & Burling, he lives in Washington, D.C.
Sam Koppelman is a New York Times bestselling author who served as director of surrogate speechwriting on the Biden-Harris campaign. A graduate of Harvard College, he is now a principal at Fenway Strategies, where he has spent half a decade telling the stories of people working to make the world a better place.
Posted: February 1, 2022