Our WOW Nov. 17 Night: '21 NBAs For PRH Fiction, Nonfiction, YPL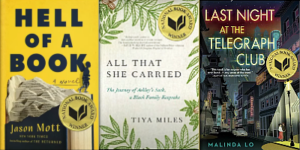 Were you able to watch the National Book Awards ceremony, live-streamed in part from the 2nd floor of our 1745 Broadway headquarters, the evening of November 17? If so, you saw a WOW of an evening for us. Our authors won in each of the three categories in which we were shortlisted: Young People's Literature: Malinda Lo for "Last Night at the Telegraph Club;" Nonfiction: Tiya Miles for "All That She Carried;" and Fiction: Jason Mott for "Hell of a Book."
Penguin Random House's long, wonderful history with the National Book Awards continues. In eight of the past nine years, at least one of our imprints' books has been voted a winner by its category's judges.
For this year:
Fiction
HELL OF A BOOK by Jason Mott (Dutton HC and Ebook; Penguin Audio; distributed by PRH Canada)
In "Hell of a Book," published by Dutton in June, New York Times bestselling author Jason Mott combines multiple viewpoints through three separate characters. All three are distinct individuals, representing distinct moments and perspectives, all trying to understand the value of their own lives in America. At times electrically funny, the novel goes to the heart of racism, police violence, and the hidden costs exacted on Black Americans, and America as a whole. Charles Yu, last year's NBA Fiction winner, observed, "'Hell of a Book' more than lives up to its title. Playful, searching, raw, and necessary, this writing, this voice, this novel twisted me up and turned me inside out, dazzled me, and surprised me and moved me.
"A bit overwhelmed," Jason Mott thanked his editor, John Parsley, "and the entire team over at Dutton, who believed in this novel, and helped bring it into being." He dedicated his award to, among others, "all the other mad kids, to all the outsiders, the weirdos, the bullies, the ones so strange, and they had no choice but to be misunderstood by the world…"
Nonfiction
ALL THAT SHE CARRIED: The Journey of Ashley's Sack, a Black Family Keepsake by Tiya Miles (Random House HC and Ebook; Random House Audio; distributed by PRH Canada)
In "All That She Carried: The Journey of Ashley's Sack, A Black Family's Keepsake," renowned historian Tiya Miles traces the life of a single object handed down through three generations of Black women to craft a poignant story of resilience and love, and an extraordinary testament to people left out of the archives. Edited by Molly Turpin, it was published by Random House in June to widespread praise from among many others, Jennifer Szalai in the New York Times: " A remarkable book." And the Atlanta Journal-Constitution: "Deeply and lovingly researched…a testament to the power of story, witness, and unyielding love." Publishers Weekly selected it as "One of the Ten Best Books of the Year."
A "thrilled" Tiya Miles was "deeply, deeply thankful" for her honor. She spoke of her devotion to her editor, Molly Turpin, "whose face lit up" when she first learned the book's subject. With her hundreds of edits on the manuscript, "she was the perfect editor for this project."
Young People's Literature
LAST NIGHT AT THE TELEGRAPH CLUB by Malinda Lo, (Dutton Books for Young Readers; Listening Library Audio; distributed by PRH Canada)
Malinda Lo is the critically acclaimed author of several young adult novels. In this latest, published by Dutton Books for Young Readers in January, edited by Andrew Karre, seventeen-year-old Lily Hu notices her feelings growing for her classmate Katherine Miller. But America in 1954 is not a safe place for two girls to fall in love, especially in Chinatown. O: The Oprah Magazine said, "Proof of Malinda Lo's skill at creating darkly romantic tales of love in the face of danger."
An exhilarated Malinda Lo accepted her honor with effusive thanks to Penguin Young Readers, and in particular to her editor at Dutton Books for Young Readers, Andrew Karre. "Working with you has been a transformation," she said. Citing the growth in LBGTQ storytelling since she began writing fiction, she also warned of growing opposition to it. "Don't let them erase us," she urged.
The fast-paced, virtual ceremony, produced by the National Book Foundation-supervised team, provided inspiration and enjoyment throughout the evening.
Preceding the title competitions, it was thrilling for many of us to cheer Nancy Pearl, this year's recipient of the Libertarian Award for Outstanding Service to the American Library Community. Nancy is the singular gold standard among lifelong library professionals. She is cherished by our publishing and our Library Education and Marketing and Promotion colleagues for galvanizing library patrons across the country to read thousands of our authors' works.
It was also great to see our author, presentation host Phoebe Robinson, make a positive impression with the publishing and literary community viewers, offering personal and amusing testaments to the power of books to change the world. A stand-up comedian, producer, and actress, her most recent bestseller is the essay collection "Please Don't Sit on My Bed in Your Outside Clothes," the debut title from her buzzy Dutton/Plume imprint, Tiny Reparations Books.
One last booming exclamation of congratulations to our 2021 NBA winners, shortlist, and long list authors, and those published by clients of PRHPS. Equally immense appreciation and respect to their publishing teams for the care and creativity in supporting them.
Perhaps next November, the Awards ceremony will return to downtown Manhattan to resume as an in-person event, replete with black-tie seating and steak tartare entrees. Whatever the dress and dining options, or wherever, our publishers, once again, will be ready with our best.
The complete list of Penguin Random House National Book Award winners, 2013-present:
Fiction:
2021: HELL OF A BOOK by Jason Mott (Dutton)
2020: INTERIOR CHINATOWN by Charles Yu (Pantheon)
2016: THE UNDERGROUND RAILROAD by Colson Whitehead (Doubleday)
2015: FORTUNE SMILES: Stories by Adam Johnson (Random House)
2014: REDEPLOYMENT by Phil Klay (Penguin Press)
2013: THE GOOD LORD BIRD by James McBride (Riverhead)
Nonfiction:
2021: ALL THAT SHE CARRIED: The Journey of Ashley's Sack, a Black Family Keepsake by Tiya Miles (Random House)
2017: THE FUTURE IS HISTORY: How Totalitarianism Reclaimed Russia by Masha Gessen (Riverhead)
2015: BETWEEN THE WORLD AND ME by Ta-Nehisi Coates (Spiegel & Grau)
Poetry:
2015: VOYAGE OF THE SABLE VENUS by Robin Coste Lewis (Knopf)
Translated Literature:
2020: TOKYO UENO STATION by Yu Miri. Translated, from the Japanese, by Morgan Giles (Riverhead)
Young People's Literature:
2021: LAST NIGHT AT THE TELEGRAPH CLUB by Malinda Lo (Dutton Books for Young Readers)
2014: BROWN GIRL DREAMING by Jacqueline Woodson (Nancy Paulsen Books)
Posted: November 18, 2021