Out of Print + PRH Books + BRC Coffee = "Reads & Roasts" Bundles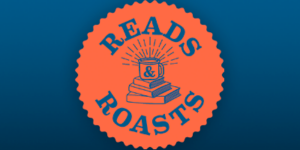 Out of Print has partnered with Penguin Random House publishers and the Brooklyn Roasting Company to pair a selection of some of the best books of the year with some of the best coffee beans BRC has to offer. Each "Reads & Roasts" bundle includes BRC's famous Java Mocha blend and one of these PRH books:
Each book + coffee bundle is $28 (representing a +$40 value). To view the bundle options and order, click here.
This offer ends on Tuesday, November 9 at 12:00 midnight (ET). Orders will ship by the beginning of December.
Books and coffee have long had a wonderful and symbiotic relationship. Out of Print is all about bringing book people together to talk about and enhance the lifestyle of being a reader. "Reads & Roasts" offers another opportunity to enjoy books and the things that go so well with them.
Posted: November 8, 2021