Out Today: Dr. Ibram X. Kendi's New Books From One World and Kokila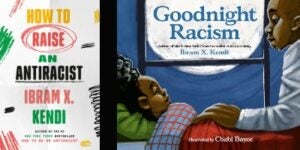 Dr. Ibram X. Kendi, #1 New York Times bestselling author of How to Be an Antiracist and Antiracist Baby, has two new books out today, Tuesday, June 14: HOW TO RAISE AN ANTIRACIST (One World) and GOODNIGHT RACISM (Kokila). Dr. Kendi spoke about the genesis of these books on NPR's Morning Edition, "Parents, teachers, caregivers have a choice in the matter as to whether we're going to say anything to our children about race. But we're saying things to our kids about race when they look at their books or they look in the curriculum and almost everyone is white. We're saying who we value. Even though we don't say anything about the race of those authors, of those people, we're speaking to our kids about race just as we're speaking to them about race when we diversify the books, when we diversify the offerings, when we explain to our children that the inequality that they see in our society is the result of bad rules and not bad people."
Dr. Kendi concluded that teaching students about the reality of racism and the myth of race provides a protective education in our diverse and unequal world. He realized that building antiracist societies safeguards all children from the harms of racism.
The chapters in HOW TO RAISE AN ANTIRACIST follow the stages of child development from pregnancy to toddler to schoolkid to teenager. If we truly want to provide a protective education in our diverse and unequal world, it is never too early or late to start raising young people to be antiracist.
GOODNIGHT RACISM is a modern bedtime classic, illustrated by Cbabi Bayoc, that gives children the language to dream of a better world. With dynamic, imaginative art and poetic prose, GOODNIGHT RACISM is for parents who are looking for books that not only start productive conversations about racism and injustice, but meaningfully sustain them.
National media has featured Dr. Kendi discussing his new books with a CBS Mornings interview, CBS Sunday Morning profile, and NPR / Morning Edition interview.
There will be a Random House Juneteenth Special Virtual Event, "How to Talk to Kids About Antiracism, Slavery and Emancipation," via Zoom on Thursday, June 16 at 7:30 pm, featuring Dr. Kendi in conversation with Dr. Ebony Thomas, Laurie Halse Anderson, Austin Channing Brown, and a special discussion with GOODNIGHT RACISM illustrator Cbabi Bayyoc. The event is open to any and everyone who has the gift of a young one in their lives—to celebrate Juneteenth and reflect on how we can all raise kids to be antiracist.
To register for this event, click here.
Posted: June 13, 2022