Paola Ramos to Discuss FINDING LATINX with Julian Castro via Zoom (10/29)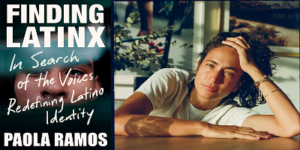 Paola Ramos, author of FINDING LATINX (Knopf), will be in conversation with Julian Castro, at a virtual event hosted by Changing Hands Book Store (Tempe, AZ) via Zoom on Thursday, October 29 at 9:30 pm (ET).
In this empowering cross-country travelogue, journalist and activist Paola Ramos embarks on a journey to find the communities of people defining the controversial term, "Latinx." She introduces us to the indigenous Oaxacans who rebuilt the main street in a post-industrial town in upstate New York, the "Las Poderosas" who fight for reproductive rights in Texas, the musicians in Milwaukee whose beats reassure others of their belonging, as well as drag queens, environmental activists, farmworkers, and the migrants detained at our border. Drawing on intensive field research as well as her own personal story, Ramos chronicles how "Latinx" has given rise to a sense of collectivity and solidarity among Latinos unseen in this country for decades.
Paola Ramos is a host and correspondent for VICE and VICE News, as well as a contributor to Telemundo News and MSNBC. Ramos was the deputy director of Hispanic media for Hillary Clinton's 2016 presidential campaign and a political appointee during the Barack Obama administration, and she also served in President Obama's 2012 reelection campaign. She's a former fellow at Emerson Collective. Ramos received her MA in public policy from the Harvard Kennedy School and her BA from Barnard College, Columbia University. She lives in Brooklyn.
!! As a reminder, if you are posting to a personal or other non-PRH account you must include the hashtag #TeamPRH !!
Posted: October 27, 2020