Pastry Chef Lisa Donovan to Discuss Her New Memoir via SouthernFood.org (8/12)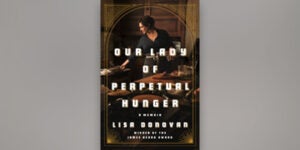 Renowned southern pastry chef Lisa Donovan will talk about her new memoir, OUR LADY OF PERPETUAL HUNGER (Penguin Press), about cooking, survival, and the incredible power in reclaiming the stories of women in conversation with Lois Eric Elie at a virtual event hosted by the Southern Food and Beverage Museum via SouthernFood.org on Wednesday, August 11 at 8:00 pm (ET). 
Noted chef and James Beard Award-winning essayist Lisa Donovan helped establish some of the South's most important kitchens, and her pastry work is at the forefront of a resurgence in traditional desserts. Yet Donovan struggled to make a living in an industry where male chefs built successful careers on the stories, recipes, and culinary heritage passed down from generations of female cooks and cooks of color. At one of her career peaks, she made the perfect dessert at a celebration for food-world goddess Diana Kennedy. When Kennedy asked why she had not heard of her, Donovan said she did not know. "I do," Kennedy said, "Stop letting men tell your story."
OUR LADY OF PERPETUAL HUNGER is Donovan's searing, beautiful, and searching chronicle of reclaiming her own story and the narrative of the women who came before her. Her family's matriarchs found strength and passion through food, and they inspired Donovan's accomplished career. Donovan's love language is hospitality, and she wants to welcome everyone to the table of good food and fairness.
Donovan herself had been told at every juncture that she wasn't enough: she came from a struggling southern family that felt ashamed of its own mixed race heritage and whose elders diminished their women. She survived abuse and assault as a young mother. But Donovan's salvations were food, self-reliance, and the network of women in food who stood by her.
!! As a reminder, if you are posting to a personal or other non-PRH account you must include the hashtag #TeamPRH !! 
Posted: August 11, 2020