Patty Lovell to Launch Her New Molly Lou Melon Book via Crowdcast (9/8)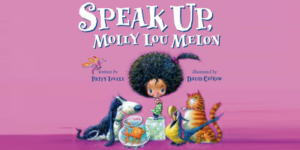 Patty Lovell, author of SPEAK UP, MOLLY LOU MELON (Putnam Books for Young Readers) will read from and discuss her new book at a virtual launch event hosted by the Book Revue via Crowdcast on Tuesday, September 8 at 7:00 pm (ET).
The beloved modern classic character, Molly Lou Melon, is tackling the timely topic of speaking up for yourself and others. Molly Lou Melon's mother taught her to use her big voice for good–to speak up for what's right, for those who can't, and even when it's hard. So she does. When school starts and a bully begins teasing everyone, including a new student, Molly Lou knows just what to do. From standing up for a friend to admitting when you've made a mistake, Molly Lou shows us how speaking up is always the right choice. The beloved classic character has another important message to share, and David Catrow's vibrant and spunky illustrations continue to expand Molly Lou's larger-than-life personality.
Patty Lovell taught kindergarten for 14 years and recently moved to first grade. She lives in Glen Cove, New York.
!! As a reminder, if you are posting to a personal or other non-PRH account you must include the hashtag #TeamPRH !!
Posted: September 7, 2020