Paul McCartney's New Picture Book, GRANDUDE'S GREEN SUBMARINE, Releases with RHCB & Globally on September 2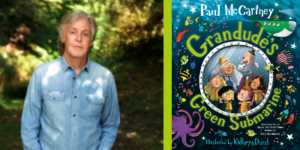 Random House Children's Books in the US and Penguin Random House Children's UK have announced the forthcoming publication of GRANDUDE'S GREEN SUBMARINE, the picture book sequel to HEY GRANDUDE!, written by one of the world's most famous and best-loved grandfathers, Paul McCartney. GRANDUDE'S GREEN SUBMARINE will be published in hardcover under the Random House Books for Young Readers imprint in the US and the Puffin imprint in the UK on September 2, 2021.
HEY GRANDUDE!, Paul McCartney's first picture book, was published to global success in September 2019. The book was a #1 New York Times bestseller, selling 300,000 copies around the world, with translations in 32 languages and counting. It introduced a magical grandpa—the eponymous Grandude—who was inspired by a nickname Paul's own eight grandchildren gave him.
GRANDUDE'S GREEN SUBMARINE continues the adventures of Grandude and his grandchildren as they set off on a quest to find their music-loving grandmother, Nandude! It's an action-packed extravaganza of wild imagination and fun for the whole family, a read-aloud that's perfect for sharing, destined to become a timeless classic.
World rights were acquired from MPL Communications in a joint acquisition by Puffin Picture Books Editorial Director Joe Marriott and Random House Books for Young Readers Editorial Director Heidi Kilgras. Like HEY GRANDUDE! the book will be illustrated by Kathryn Durst, who is represented by Arabella Stein at The Bright Agency.
Paul McCartney said: "I'm really happy with how HEY GRANDUDE! was received, as this was a very personal story for me, celebrating Grandudes everywhere and their relationships and adventures with their grandchildren. I love that it has become a book read to grandkids at bedtime all around the world. I always said if people liked the first book and there was an appetite for more, I would write some further adventures for Grandude—so he's back and this time with his special invention, Grandude's green submarine!"
Kathryn Durst, Illustrator, said: "I am so thrilled to be collaborating with Paul again on Grandude's Green Submarine. I think this is the adventure book we all need during this time, when everyone is stuck at home and longing to travel to exciting new places. I really enjoyed drawing the newest character in the book, Nandude, particularly because we both share a love of playing the accordion!"
Barbara Marcus, Random House Children's Books President, said: "It is an honor to have an icon like Paul McCartney on our list, and we are so pleased to be able to publish another Grandude adventure to share with young readers and his adult fans. Hey Grandude! was such a tremendous success, and we look forward to bringing another story that celebrates the special bond between grandparents and their grandchildren."
Since writing his first song at the age of 14, Paul McCartney has been impossibly prolific and singularly influential career. In the 1960s, Paul changed the world forever with The Beatles. He didn't stop there, and has continued to push boundaries as a solo artist, with Wings, and collaborating with numerous world-renowned artists. He has received 18 Grammys, and in 1997 was knighted by H.M. The Queen for his services to music. His most recent album, McCartney III, was Number One in the UK Official Charts as well as Number One on the US Billboard Top Album Sales Chart upon release in December 2020. Paul is a dedicated philanthropist, passionately advocating for many causes including animal rights and environmental issues. He's also a very proud grandfather.
Kathryn Durst was born in Peterborough, Canada, and is a graduate of Sheridan College. With a background in animation, she has interned with Pixar Animation Studios in addition to working with various children's book publishers. When she is not illustrating books, she may be found playing the accordion, growing vegetables, folk dancing, or putting on shadow puppet shows. She lives in Canada with her grumpy mini dachshund named Chili Dog.
Posted: March 22, 2021