Paul Mendez to Discuss His Debut Novel RAINBOW MILK via Zoom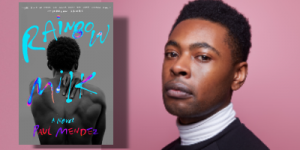 Paul Mendez, author of RAINBOW MILK (Doubleday), will discuss his debut novel with Jeremy Atherton Lin at a virtual event hosted by Green Apple Books (San Francisco) via Zoom on Saturday, June 12 at 3:00 pm (ET).
Fellow Penguin Random House author Marlon James calls RAINBOW MILK "the kind of novel you never knew you were waiting for." With his literary debut, Mendez creates a necessary and revelatory coming-of-age narrative sharing the struggles of 19-year-old Jesse McCarthy on his journey to uncover his racial and sexual identities in the overcast of his Jehovah's Witness upbringing.
RAINBOW MILK blurs the lines between nonfiction and fiction in a way that is both intuitive and tender. Mendez's semi-autobiographical writing sparks a conversation about the intersectionality of race, class, sexuality, freedom, and religion across generations, time, and cultures.
Paul Mendez is a Black British voice actor and theatre performer born and raised in the Black Country. He is currently studying for an M.A. in Black British Writing at Goldsmiths, University of London where he also resides.
!! As a reminder, if you are posting to a personal or other non-PRH account you must include the hashtag #TeamPRH !!
Posted: June 11, 2021