Paula McLain's WHEN THE STARS GO DARK is New GMA Buzz Pick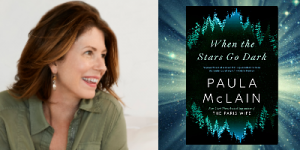 Ballantine published WHEN THE STARS GO DARK by Paula McLain on Tuesday, April 13, and today Good Morning America announced that this book is the new GMA Buzz Pick. Weaving together actual cases of missing persons, trauma theory, and a hint of the metaphysical, this propulsive and deeply affecting novel tells a story of fate and redemption. In a recent New York Times feature, McLain said that while walking her dog, "I pictured this troubled missing persons detective who becomes obsessed with a girl who goes missing in a town that meant something to her when she was a kid. Before I got home, I could see the whole thing."
In this Three Questions for an Editor Igloo interview, Ballantine Vice President & Executive Editor Susanna Porter shares how McLain's approach to fiction took a new turn with this novel, what the editor/author process entailed, and why readers will be drawn to this book.
Is WHEN THE STARS GO DARK a departure from Paula McLain's brand of fiction and style of storytelling?
Absolutely. Paula's new novel is a radical departure from the kind of fiction that made her a bestseller. The Paris Wife, published by Ballantine in 2011, was among the first historical novels to include real-life characters. Featuring Ernest Hemingway and his first wife Hadley, it was an immediate hit and keeps on selling, now with over 2 million copies in print. Paula followed it up with two more bestselling historicals, Circling the Sun and Love and Ruin, but at that point felt the urge to try something different. When the Stars Go Dark is a literary suspense novel—its lead characters are all fictional, and the plot is based not on historical lives but springs entirely from Paula's imagination. So yes, a radical departure, but for those who love the earlier novels, there is the same brilliant first person narration by an unforgettable female character and a factual background of actual missing person cases — but this time with an added element of suspense that, as one reviewer put it—and don't we love when they write this—"will keep you up all night."
How would you describe the editor/author process for this novel?
Paula is a pro—she's her own best editor. She wrote several full drafts of this novel before I ever saw it. When I did, I was thrilled to discover how she had found her voice and a compelling plot in this new genre. So I would say I was a fine-tuner rather than having to do any heavy lifting. But that said, we kept working together and revising, right up to the last minute, really. And then Paula had the good sense to share the nearly finished novel with a missing persons detective, which added another layer of authenticity to it and led to some superb last minute tweaks.
Who do you think will be drawn most strongly to the book's characters and twisty plot?
Loyal fans of her previous historical novels will be drawn to Paula's newest female protagonist, Anna Hart, from her very first words, "The night feels shredded as I leave the city…" You can't look away as you watch Anna escaping the ruins of her past life to take refuge in a remote cabin in the woods. You're anxious to see what happens to her, and that's when the twisty plot kicks in that will draw fans of contemporary suspense into this emotional story, as Anna struggles to sort out her own life while trying to save an abducted teenage girl. So we believe this book will attract Paula's many fans and pull in a great many new ones.
Posted: April 16, 2021