Penguin Author Nedra Glover Tawwab Launches Podcast, YOU NEED TO HEAR THIS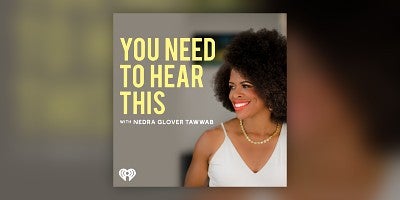 Nedra Glover Tawwab, New York Times bestselling author of SET BOUNDARIES, FIND PEACE (TarcherPerigee) and DRAMA FREE, is launching a podcast. You Need To Hear This, developed and distributed by iHeart Radio, drops its first episode Thursday, May 11 and will publish new episodes every Thursday. As the show reminds listeners: "Face it, relationships are hard, but they don't have to be."
A licensed therapist and highly sought after relationship expert, Nedra's philosophy is that a lack of boundaries underlie most relationship issues. So each week on her new podcast, Nedra guides influential guests and callers alike on healthy ways to set boundaries, improve interconnections, and find peace of mind. With her trademark clarity and compassion, she offers each guest the simple steps that can lead to big change in their relationships and their lives.
Nedra's most recent publication, DRAMA FREE: A GUIDE TO MANAGING UNHEALTHY RELATIONSHIPS, was an instant New York Times bestseller and is a road map for identifying dysfunctional family patterns and choosing the best path to breaking the cycle and moving forward. Bestselling author and fellow iHeart podcaster Lori Gottlieb has said about DRAMA FREE: "Nedra Tawwab offers a much-needed guide to understanding our upbringing—and becoming an agent for change in our own lives." SET BOUNDARIES, FIND PEACE, THE SET BOUNDARIES WORKBOOK and DRAMA FREE are published by Tarcher Perigee and also available from Penguin Random House Audio.
In addition to being a bestselling author and now podcaster, Nedra has practiced relationship therapy for more than fifteen years. She has appeared as an expert on The Red Table Talk, The Breakfast Club, Good Morning America, the Today Show and CBS This Morning, to name a few, and her work has been highlighted in The New York Times, The Guardian, and Vice. She also runs a popular Instagram account where she shares practices, tools, and reflections for mental health and hosts weekly Q&As about boundaries and relationships. You can follow, rate and review the You Need To Hear This podcast on Apple, Spotify or wherever you get your podcasts.
Posted: May 8, 2023