Penguin Books Founder Sir Allen Lane Honored at Exeter St Davids Railway Station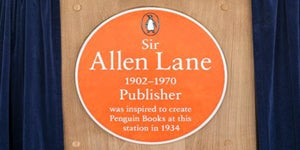 The founder of Penguin Books, Sir Allen Lane, is being commemorated with a distinctive "orange plaque" at Exeter St Davids railway station today. The plaque, commissioned by Lane's daughter, Clare Morpurgo, and designed by Penguin Random House, recognizes his contribution to British publishing and commemorates the location where he conceived the iconic sixpenny paperback in 1934.  For the first time, the sixpenny paperback made quality literature accessible to a wide audience, sparking the paperback revolution and the beginning of Penguin Books.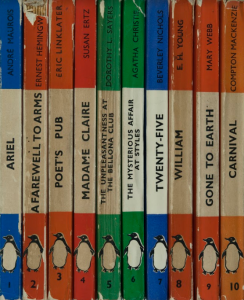 The unveiling of the plaque is being marked by a special ceremony at the station to celebrate Sir Allen's life and his extensive contribution to literature in the UK.  Members of Sir Allen's family including daughters Clare Morpurgo and Christine Teale, Managing Director of Penguin Press, Stefan McGrath, representatives from Great Western Railway, and local charities and community groups are attending.
Today Penguin Random House publishers are giving away a specially curated selection of paperback books to celebrate Sir Allen Lane's legacy.
Commenting on the unveiling of the plaque, Ms. Morpurgo said: "It is wonderful to be able to celebrate my father's contribution to literature in the UK. I know he would be delighted to see how many people have fallen in love with reading since Penguin Books first put quality books into the hands of readers everywhere.  Given Exeter's integral role in my father's story, I could not think of a better place for this plaque to stand."
Tom Weldon, CEO, Penguin Random House UK, added: "Allen Lane was central to the success of Penguin Books and his legacy lives on today. We all still share his passion for publishing iconic books and his ambition of connecting them with readers everywhere. We're thrilled to celebrate his life and contribution at the very place he first had his inspiration."
GWR Station Manager for Exeter St Davids Debbie Ferris commented: "Reading is often associated with railway stations, and relaxing journeys to the UK's most renowned destinations. For over 80 years Penguin has inspired its readers to escape, while the railway has turned that fiction into reality.
"We are delighted to be able to welcome Sir Allen's family here today as we celebrate his life and a publishing revolution, which like the railways a hundred years before had a massive, and continuing, impact on public life in Britain."
Posted: May 10, 2017